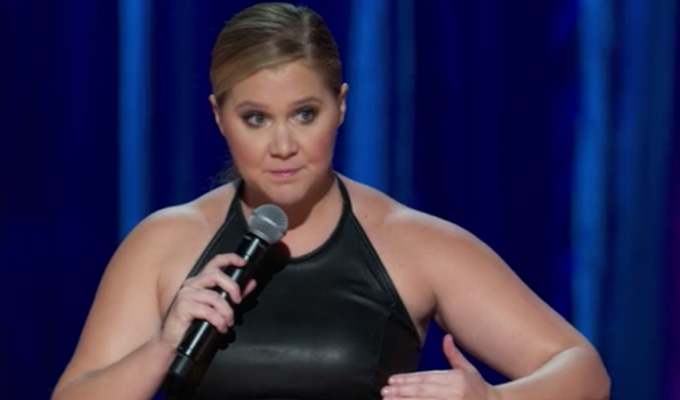 Amy Schumer accused of joke theft again
Amy Schumer has again been accused of stealing jokes.
Viewers have pointed out similarities between jokes in her latest stand-up show, The Leather Special, and gags from Dave Attell and Dave Chappelle.
And variations on lines in her forthcoming movie Snatched have previously been heard in the sketch show Portlandia – which she has previously praised – and the Mel Brooks movie Spaceballs.
This YouTube video outlines the similarities.
One example given is Dave Attell joking in his 2003 special, Skanks For The Memories: 'Do you ever black out while drinking, or as I call it time travel?'
And in The Leather Special, released on Netflix last week, Schumer said: 'Has anyone ever blacked and been awake when they come out of it? It's kind of cool cause you're like a time traveler, and you're just like, back in your body.'
Right-wingers have also been spamming the reviews of Schumer's special on Netflix to lower its average rating. American comedy website Splitsider tracked down the spate of poor reactions to concerted campaigns run via Reddit threads, including one dedicated to Donald Trump supporters.
Schumer hit back at both the allegations of plagiarism and the campaign against her in an Instagram post.
In it, she said: 'I am so proud of my special and grateful to all the people spreading love on line about it', before thanking the 'alt-right-organised trolls' who 'attack everything I do.'
'I want to thank them,' she said. 'It makes me feel so powerful and dangerous and brave. It reminds me what I'm saying is effective and bring more interest to my work and their obsession with me keeps me going... It fills me with hope and power to see you all furiously posting so as always accuse me of whatever lies you want.
'Call me a whale. Call me a thief and I will continue to rise and fight and lead. I know who I am. I am strong and beautiful and will use my voice my whole time on this earth. '
Last year, an 11-minute video outlining similar accusations of plagiarism against Schumer as well as her defence agains the claim went viral, attracting almost 2million views It compared some of her material to jokes from Patrice O'Neal, John Mulaney, Kathleen Madigan and Marc Maron, among others:
Published: 17 Mar 2017
What do you think?