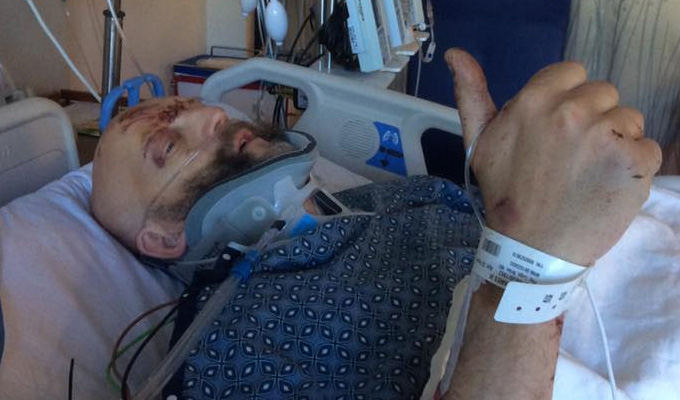 Jim Tavare 'making progress' after car crash
Jim Tavare is 'making progress' after last week's serious car crash, his wife Laura has said.
The comic and actor remains in intensive care, but posting on Facebook, Laura said: 'Hopefully it won't be long before he can make his own status updates again.'
Following the head-on smash, Tavare suffered 15 broken ribs, fractures in both breastbones, a punctured lung, multiple breaks in his right leg, and a broken neck.
Laura thanked the friends and fans who have posted hundreds of goodwill messages online since she revealed the accident – and posted a photograph showing his injuries – as he was about to go into surgery last week.
She posted tonight: 'I just wanted to take a minute to thank all of you for the many messages of support and love for Jim (and me) as we battle through this traumatic time. It means so much to know you're out there rooting for his recovery.'
The pair live in Los Angeles, after Jim, now 54, broke into the US market following his successful appearance on the 2008 series of reality series Last Comic Standing.
Last month more than 113 million Americans watched as he starred in an advert aired during the Superbowl. He previously played Tom, the owner of the Leaky Cauldron, in Harry Potter And The Prisoner of Azkaban, and appeared in the TV series Californication, as an English butler to a hip-hop mogul played by Wu-Tang Clan frontman RZA.
Previously Tavare, whose stand-up act involved a double bass, co-wrote and appeared in the ITV series The Sketch Show, alongside the likes of Lee Mack and Tim Vine.
Published: 13 Mar 2017
What do you think?