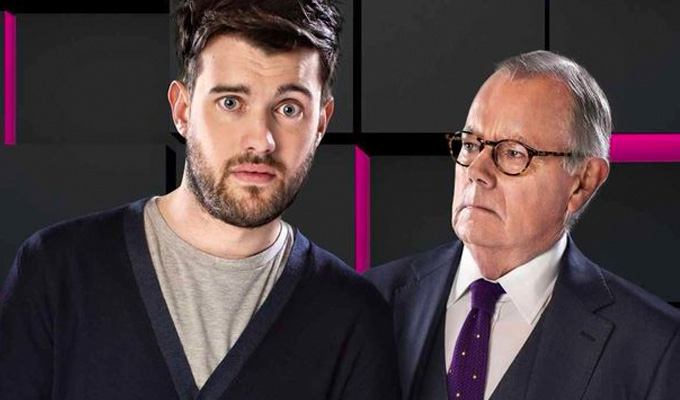 Jack Whitehall travels with his dad
Jack Whitehall is shooting a travel show with his father Michael for Netflix, Chortle can reveal.
The pair, who previously made two series of the BBC chatshow Backchat together, are embarking on a six-week trip to Thailand, Cambodia and Vietnam tomorrow, the day after the comedian's At Large tour ends.
Jack Whitehall's Travels With My Father will follow the comic as he finishes the gap year he began in 2009, when a friend's motorcycle accident and his place in the Laughing Horse new act competition final prompted him to leave India after a couple of weeks.
But Whitehall worries that his irascible father, an avowedly reluctant tourist, might not actually complete the holiday.
'Who knows, it's Trump all over again' he told Chortle. 'We're taking odds as to how long he lasts. I asked him which bit he's looking forward to the most and he said "the plane touching down at Heathrow", so that doesn't necessarily bode well'.
In shooting a travelogue with a parent, he accepts that he'll be seen as treading 'quite a well trodden path', following Russell Howard, Romesh Ranganathan and 50 Ways To Kill Your Mammy creator Baz Ashmawy. But he argues that he actually got there first with the live Backchat show they performed at the Edinburgh Fringe in 2011.
Besides, 'I'm by no means the first comedian to work with their dad. Harry Enfield did it, Adam Buxton did it. If you're influenced by your parents and find them funny, why not? But I think this will have a very different feel to those shows. He's such a force of nature that I feel like I'm the supporting artist, he completely takes control.'
A retired theatrical agent for clients such as Judi Dench, Daniel Day-Lewis and Colin Firth, Michael Whitehall is 'quite apprehensive' about the forthcoming trip, Jack says,  'because he just doesn't travel.
'He's agoraphobic, well, everything phobic and it's going to be weird for him because he hasn't really done anything like this before. He didn't like the idea of wearing snake-proof boots but he's going to buy a linen suit when we get to Bangkok because he's obsessed with the idea that linen doesn't travel well. He's also quite obsessed about seeing the Bridge Over The River Kwai, that's the only thing on the itinerary he has any interest in'.
They will be accompanied by producer-director John Hodgson and his team, who previously made the travelogue Paul Merton in China. 'They've got a good plan as to what we'll be doing but as always, things drop off the schedule and people get tired, specifically older people, so things change,' Jack says. It'll be quite a fluid shoot.'
Case in point ought to be persuading Whitehall Sr to sleep in a hostel or treehouse. 'The only time we've ever been camping was to Cornwall' his son recalls. 'He intended to stay with us in the tent I think. But when he saw the toilet facilities he decided he was going to book into a hotel down the road. We had this bizarre holiday where me, my mum, brother and sister would just see him for lunches and dinners then go back to the campsite. It was probably one of the nicest holidays we ever had because no-one really argued and my mum had a lovely time.'
The Whitehalls will be sampling typical South East Asia gap year activities such as yoga, a full moon party and visiting 'a community where the women are in charge, which should be fun' the comic says. 'He's excited about seeing monks actually, because he was raised by some in Ampleforth. Though I've pointed out that Yorkshire monks are probably quite different to those in Cambodia and Vietnam.
'He's also really bad with food. He has a very serious stomach condition and has had several operations, he can't eat anything with any flavour. I genuinely envisage him travelling around with a briefcase full of spam and Marmite. I don't think he's necessarily going to be a convert to Thai street food.'
Travels With My Father's six 30-minute episodes are executive produced by Ben Cavey and Mark Chapman for Cave Bear and Tiger Aspect Productions, the companies behind Backchat, Bad Education, Sky's forthcoming Bounty Hunters sitcom and the BBC's adaptation of Evelyn Waugh's Decline and Fall, all starring Whitehall.
It's not his only travel show airing soon. He also shot The League of Their Own US Roadtrip for Sky One with James Corden and former sportsmen Jamie Redknapp and Freddie Flintoff  in New York, Los Angeles and Florida last year. That was 'tiring enough, you're throwing yourself into these mad situations and that was with professional athletes' he recalls. 'The idea of doing that with a man who gets out of breath ironing a shirt is quite daunting.'
The Netflix deal makes Whitehall the third act from the Hannah Chambers management stable to land a show with the online streaming giant after stand-up specials for Jimmy Carr and Frankie Boyle. And he hopes that At Large will have an extended life after his tour finishes in Peterborough tonight.
'I'll have to work out how much more I want to perform it live first, because once you commit it to a DVD or streaming service you've lost the chance to go and do it again' he says. 'It's hard filming shows in arenas and making them work for a laptop screen. So I want to get a bit of distance over the summer to work out how I want to tailor it.'
He begins rehearsals for Bounty Hunters, the Sky 1 action comedy he's written with longtime collaborator Freddy Syborn just two days after returning to the UK. And he's delighted to be working with former Oscar-nominee Rosie Perez, after the pair co-starred in a pilot for the US adaptation of Bad Education in 2014.
'I left that thinking she was someone I'd really like to work with again' he enthuses. 'So I ended up writing [Bounty Hunters] with Freddie because we knew Rosie and I had this good comic dynamic going on, which hopefully we'll bring to the screen'. He'll be leaving the fight scenes and gun shooting to her though, because 'the joy of it will be that my character is completely useless at that.'
Meanwhile, he'll next be seen starring in Rev creator James Wood's adaptation of Decline and Fall for the BBC, alongside Desperate Housewives's Eva Longoria and David Suchet.
'I love the tone of comedy-drama, it's the thing I enjoy most' he reflects. 'Over the three episodes it's quite sitcommy in terms of it being very funny and the characters are quite broad, but there's a darker edge, it's quietly satirical and quite sad at times too.
'Doing Fresh Meat I realised I like being able to surprise the viewer and take them on a character journey, so I want to do more of that. But it's a hard one to nail. You don't want a comedy that isn't funny enough or a drama that's not dramatic enough. People that can do both are who you want to work with.'
- by Jay Richardson 
Published: 28 Feb 2017