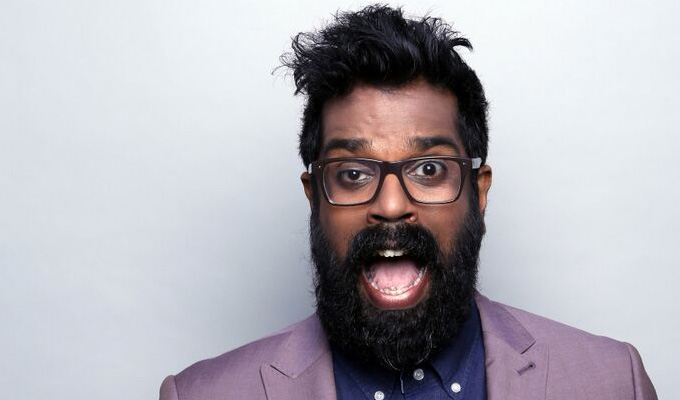 Romesh Ranganathan shoots Sky sitcom
Romesh Ranganathan is piloting a semi-autobiographical sitcom for Sky 1.
He is currently filming The Reluctant Landlord, which is being directed by The Inbetweeners' Ben Palmer.
When Chortle first wrote about the project in 2015, the sitcom focused on a disillusioned criminal barrister who takes over a village pub and is keen to get involved in the community, even if it's 'at odds with his natural predilection for being pretty unsociable' and the locals unwillingness to accept him.
Plots would involve the central character, Pratheep – who is desperate to please despite having a 'fairly short tolerance for idiocy' – trying to convince his new neighbours to accept him and his family by helping out with their problems.
While he was still an open spot comedian, Ranganathan ran a gig at his father's pub in East Grinstead to get stage time.
When his father died, he and his brother briefly tried running the business. Earlier this month he revealed that his father's death and his financial struggles led him to consider quitting comedy, until he won the 2013 Leicester Mercury Comedian of the Year competition.
The Reluctant Landlord is made by production company What Larks!, whose credits include Jo Brand's social work sitcom Damned, which also featured Ranganathan in the pilot.
This latest, non-broadcast try-out is his second autobiographical sitcom commissioned this year, after he recorded Parental Guidance for Radio 2 last month. Written by stand-up Max Davis, the pilot focuses on a mixed-race couple living in Crawley with their two children and co-stars Meera Syal and Sherlock's Amanda Abbington.
The brace of shows cap a busy time for Ranganathan, who has a third series of his BBC Three travelogue Asian Provocateur in development, and is due to be writing a memoir – but recently revealed he hasn't started yet.
Ranganathan is also involved in hosting two topical BBC pilots seeking to emulate Saturday Night Live: That's It For The Week and That Thing on Friday Night, the latter alongside Katherine Ryan and Joe Lycett.
- by Jay Richardson
Published: 21 Feb 2017
Recent News
What do you think?