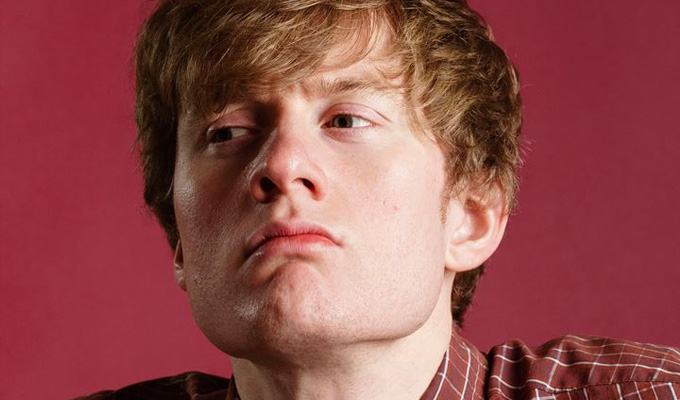 James Acaster does the treble
The best of the week's comedy.
Sunday February 5
LIVE IN GLASGOW: It's the second night of Still Game's return to the Hydro, as Jack and Victor – aka  Ford Kiernan  and Greg Hemphill – return for another example of how to grow old disgracefully. They play until February 14, except Mondays.

LIVE IN LONDON: Pythons Terry Gilliam and Michael Palin come together for a one-off event to talk about their life and work. This one-off fundraising event for the Roundhouse venue, which hosts it, is fronted by Sanjeev Bhaskar. But tickets for the show, entitled   An Englishman, An American & An Indian Walk Into A Bar, aren't cheap at £60.
Monday February 6
TV As part of Channel 4's Fake News Week, The Fake News Show pits comedians against outlandish headlines, alternative facts, dodgy Photo-shops, and all-too-believable viral clips. Hosted by Stephen Mangan.
LIVE IN LONDON: Delightful and socially astute Last Leg host Adam Hills combines with premium punster Tim Vine at a benefit for The Children's Trust at the Comedy Store.  Angela Barnes and Tom Lucy provide admirable support.
Tuesday  February 7
TV: Comedian Simon Brodkin is dubbed 'Britain's greatest hoaxer' in this Channel 4 documentary which looks behind his headline-grabbing stunts such as showering Sepp Blatter in banknotes and storming Kanye West's stage at Glastonbury. 10pm
LIVE IN CHELTENHAM: If there's any time for political comics to prove their mettle, it has to be now. In his new tour, Partly Political, which kicks off a UK tour in the Pitville Pump Rooms today, master impressionist Rory Bremner vows to make sense of a world that makes very little sense. Dates
Wednesday February 8
LIVE IN LEICESTER: The not-so-small matter of the Leicester Comedy Festival gets under way today, with more than 700 events over the next 19 days.. Tonight's pick is Fin Taylor's intense take on racism, Whitey McWhiteface, at The Globe. Review

LIVE IN HOVE: You wouldn't expect anything less than 'ambitious' from the brilliantly inventive James Acaster, and his 'Trelogy' tour certainly lives up to that. He plays each town on three consecutive nights, presenting a different one of his Edinburgh Comedy Award-nominated shows each time - Recognise, Represent and Reset. Any one would be a treat, a triple-ticket to all three has your week's entertainment sorted. Dates.
LIVE IN HARROGATE: Expert wordsmith Gary Delaney is joined by jaunty minstrel Jonny Awsum, observational stand-up  Jessica Fostekew and the lively MC Barry Dodds for a strong night of comedy at the  St George Hotel tonight.
Thursday February 9
LIVE IN LEICESTER: Stewart Lee's Content Provider at  De Montfort Hall is clearly the festival show of the night . But if you're looking for a talented up-and-comer, Jayde Adam's spirited show 31 (Review) at Brewdog is a solid bet. And you may have just seen her on 8 Out Of 10 Cats Do Countdown.
LIVE IN LONDON: Alexis Dubus's impressive Cars And Girls, an entertaining comic storytelling show about love, travel and adventure comes to the Vaults Festival beneath Waterloo Station. Oh, and did we mention that the whole thing is delivered in verse?
Friday February 10
LIVE IN MARGATE: Jon Richardson kicks off his new tour, Old Man, in which he ' complains about the state of the world and offer no solutions'. But in a witty, distinctively pedantic way.  Dates.
LIVE IN LOUGHBOROUGH: Today's Leicester Comedy Festival pick isn't even in Leicester, but just up the A6 in Loughborough, as slacker-in-chief Seann Walsh brings his tour show One For The Road to the Town Hall.
LIVE IN SOUTHSEA: Tack-sharp Adam Bloom heads a strong bill at the Wedgewood Rooms tonight, alongside perpetual outsider Bobby Mair and the passionate and theatrical Phil Jerrod.
Saturday February 11
TV: Comedian Lucy Beaumont returns home to Hull for a BBC documentary about its City of Culture status. Expect some Philip Larkin. BBC Two, 7pm
LIVE IN LONDON: Whoopi Goldberg is making a rare UK appearance to perform stand-up at the Palladium tonight. The 7.30pm show's sold out, but you should still be able to score tickets for the 10.30pm performance, for a wallet-worrying £57 to £84.
LIVE IN LONDON: To celebrate Charles Darwin's 218th birthday tomorrow, comedians including acerbic Scott Capurro, playful songwriter Jay Foreman and political Kate Smurthwaite are joined by the London Humanist Choir for a fundraiser to promote scientific rationalism and the teaching of evolution in schools. It's at Conway Hall, once the HQ of the Ethical Society.
LIVE IN LEICESTER: Saturday night is party night… and the Birthday Girls will make sure it goes with a bang. Their brilliantly fun show, Sh!t Hot Party Legends, at Firebug tonight, brings the WKD-fuelled sensibilities of a club night to the sketch show. Review.
• Search our full listings for comedy near you using the pull-down menus at the very top of this page.
Published: 5 Feb 2017
What do you think?