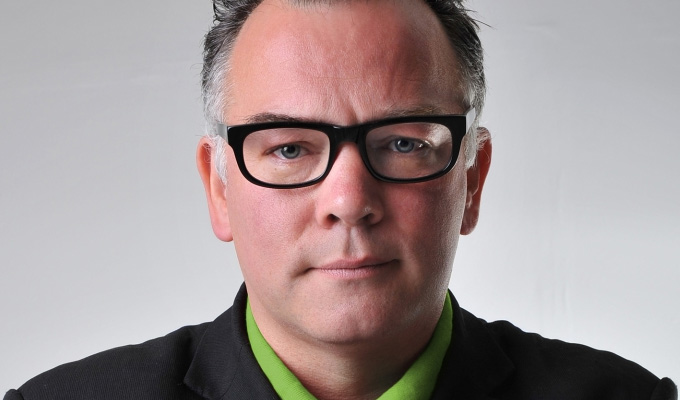 Brexit voters not welcome
• 'Terrorists have made my job difficult.' Prankster Simon Brodkin on the real victims of extremism.
• Katherine Ryan duped some news outlets yesterday by announcing that she had been forced to cancel shows after a 'bum lift' surgery went wrong. The Daily Star, Digital Spy and The List are among the organisations that reported that an illegal surgeon botched an operation, after she posted a photo online purporting to show her backside with  heavy bruising and inflamed incision marks. 'I asked the doctor for Kylie but he did the wrong one. Very stupid. Not worth it,' she said. But she later revealed the post was a wind-up to promote The Fake News Show which airs on Channel 4 on Monday.

• She might be Mock The Week's most frequent female guest, but Zoe Lyons says she still feels like she's 'not in the gang' and 'the odd one out' because of the show's policy of only ever having one woman each episode. But what most annoys her, she told Sofie Hagen and Deborah Frances White's Guilty Feminist Podcast, is that the female guests are invariably put in the same seat. 'There's a ladies chair, you get the girl's seat' she said. 'And they always give me a little booster cushion as well. 'I'm on often with Josh Widdicombe and I'm an inch taller than him. He doesn't get the booster seat, it's like a lady booster seat!'
• Sill on sexism in comedy, Tracey Ullman said that when she was younger Monty Python 'used to piss me off' – because of its all-male line-up. But she admits Michael Palin was 'adorable' when she confronted him over it. 'When I met Michael I said, "Why did you never have women in the show?",' she recalled. 'He was so adorable and said, "I think we were rather frightened of them" – so it was easier for Terry Jones to do it.'
• The Spitting Image puppets of former Labour leader Neil Kinnock and his wife Glenys are going up for auction. Auctioneer Ben Rogers Jones reckons the latex puppets will go for £2,000 to £3,000 for the pair when they go under the hammer in Cardiff on February 18.
• 'I don't really want people that voted to leave Europe or support Trump to come and see me, as they will probably slow the show down and not get the jokes, and be confused by its reliance on understanding of facts, and its assumption of shared positive human values.' Stewart Lee
• Johnny Vegas's dad is called Lol. LOL.
• The Guardian got the wrong Patrick Monahan when reporting on the comedian's thoughts on Donald Trump's travel ban this week. The newspaper illustrated their report with a photograph of the lead singer of the band Train, who's also called Patrick Monahan.

@train Pat,You always say " nobody recognises you",now our "Guardian Newspaper" thinks you're that Irish/Iranian comedian! 😂😂😂 pic.twitter.com/kQtpeflm7a

— Andrew Greenwood (@ageez25) January 30, 2017
• Red Dwarf stars Craig Charles, Robert Llewellyn, Danny John-Jules and Norman Lovett kick off an Australian fan tour tomorrow called The Smegheads Strike Back. But Chris Barrie won't be joining them because the man best known for flying a spaceship refuses to get in an aeroplane, Popbitch reports. He once said: 'When I'm in big jets, thoughts go through my head like, "What happens if all the engines stop?". I mean, I know some of them can glide, but they aren't generally known for that, are they? It's like flying in a block of flats.'
• London's Boat Show comedy club turned romantic last weekend, after one punter proposed to his girlfriend on stage. Matthew Payne asked promoters if he could pop the question during the night, and improv troupe The Noise Next Door came up with a ruse to demand he 'do something romanic' as part of his set. He duly stunned the audience by proposing to girlfriend Sarah-Jane Foster, who said 'yes'. The event was something of a last-minute affair as Payne had planned to propose on the London Eye, but he'd misunderstood the opening times and missed it by ten minutes, so hurried to the comedy club on the other side of the river. The proposal – captured below by compere David Morgan – comes a month after  another couple got engaged on stage at Downstair's At The King's Head in Crocuh End, North London.

Tweets of the week
Sad that there are more black people in Beyoncé right now, than in Trumps entire cabinet team.

— Gráinne Maguire (@GrainneMaguire) February 1, 2017
A change is as good as a rest unless you want to try a long snooker shot.

— Arthur Sixpence (@Parkerbats) January 31, 2017
Shops should make their receipts out of the same stuff as bounce™. At least they'd do some good when you tumble dry your jeans with one in.

— JC (@JCautomatic) February 3, 2017
Published: 3 Feb 2017
What do you think?