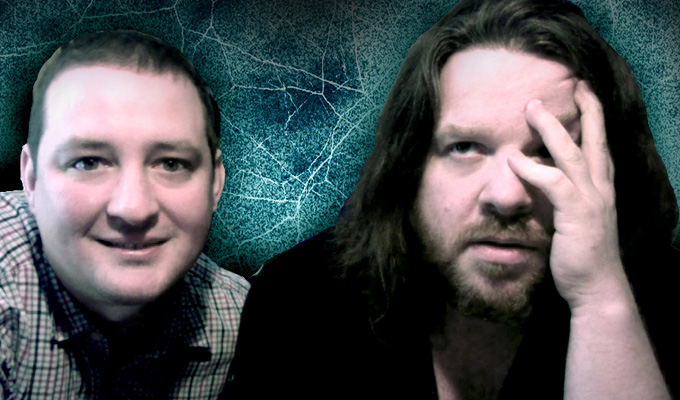 The truth is out there...
This week's best comedy shows on demand.
The Parapod
Like a Poundland Mulder and Scully, true believer Barry Dodds and realist Ian Boldsworth return to try to get to grips with some of the world's most sinister and murky mysteries. Although with Dodds' Trump-like approach to evidence and research, his claims are easily debunked by the ever-teasing Boldsworth. That he remains so cheerily secure in his beliefs despite it all is perhaps the biggest unsolved puzzle of them all. After tackling ghosts and mysteries in the first two seasons, series three turns its attention to conspiracy theories, with the Moon landings and The Illuminati covered in the first two episodes. The podcast is available on iTunes here.
The Real History of Sex
Voiced by Cariad Lloyd and David Reed – who also wrote it – this new BBC Three series of short comedy animations explores the real history of sex. Lloyd plays a curious vlogger, Reed a bemused historian. The second episode, about dating, has just been released, and the first, about sex toys, came out last week:
James Acaster's Findings
Radio 4 has been repeating Acaster's typically off-kilter 2014 series, in which he reveals his research into paint, wheels, fruit and wood. All the big issues. Nathaniel Metcalfe and Bryony Hannah support. Listen to the first two episodes here.
Desert Island Discs
In memory of Gorden Kaye, here's his appearance on the programme in 1991, when the spoke to  Sue Lawley about his childhood years in Yorkshire and his love of comedy and how he got his break with Allo Allo. His favourite track was Hadel's Hallelujah Chorus, and the book he'd take was the This Is Your Life tome presented to him with highlights of his own life. Listen here.
Big Criminals
This is a brief comedy crime caper from film-maker Simon Dymond, in which Rory and Cleo commit an armed robbery...
Published: 28 Jan 2017
What do you think?