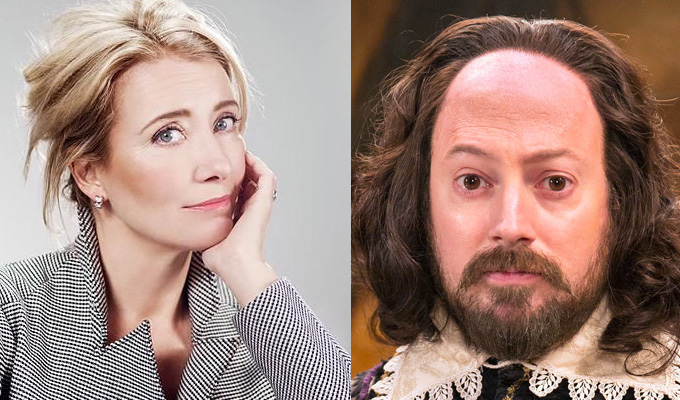 Emma Thompson joins Upstart Crow
Emma Thompson is joining Upstart Crow, playing Queen Elizabeth I.
The actress will be joining Ben Elton's Shakespearean sitcom for its Christmas episode… and her performance is likely to invite comparisons with Miranda Richardson's Queenie from Blackadder.
In the episode, the Bard is summoned before the Queen to present a special performance of the early draft of Twelfth Night, which has the working title Eighth Night;
News of Thompson's casting follows the revelation earlier this week that Noel Fielding is guest starring in another of the episodes. He will be playing madrigal maestro Thomas Morley who teams up with David Mitchell's Shakespeare on a musical comedy.
Geoffrey Whitehead, currently playing Lee Mack's father-in-law on Not Going Out, also has a guest appearance as Simon Hunt, the schoolmaster who made Shakespeare's life a misery in his boyhood and looks likely to do the same again.
The rest of the cast – including Harry Enfield, Paula Wilcox, Liza Tarbuck, Helen Monks Gemma Whelan, Rob Rouse, Mark Heap and Spencer Jones – are also returning, as is Jocelyn Jee Esien, who appeared as Lucy in one episode of the first series.
Filming began on the second season this week, for a return to screens later this year.
Mitchell said: 'Perhaps the hardest part of being in a new series of Upstart Crow is the challenge of improving on the quote I gave for the press announcement of the first series - a challenge which I have come to the conclusion I am unequal to.'
Shane Allen, the BBC's controller of comedy commissioning, added: 'This is the dream combination of masterful comedy penmanship from Ben Elton, a cast littered with well-loved comedy actors both old and new who lampoon the life and work of this cultural giant we were all taught to revere in school. It's British comedy at its finest.'
Published: 27 Jan 2017
Recent News
What do you think?