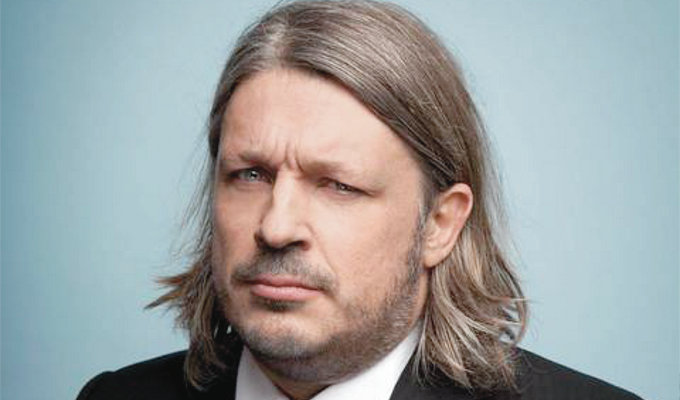 Richard Herring plans 'multiple universe' sitcom
Richard Herring is working on a 'multiple universe' sitcom for Channel 4.
Everything Happens For No Reason takes its cue from Goodnight Sweetheart, the Nineties Nicholas Lyndhurst sitcom that the comedian has admitted an 'obsession' with.
In a new year email to fans, Herring revealed that a ten-minute taster tape is being filmed for the broadcaster this month, and he added: 'If they like it then it should lead to a series. I think it's pretty good. But that means nothing.'
The comic has been working on the script for at least a year, with other influences coming from Quantum Leap and Sliding Doors.
But he says he is trying to make his script more 'realistic' than its forebears and 'fully explore the domino effect of anything changing in any timeline'.
Herring has frequently written and spoken about the paucity of ambition of Goodnight Sweetheart's central character Garry Sparrow, who discovers a wormhole that allows him to go back in time – and all he does is hang out at the local pub and have an affair with the barmaid. The comic has also pointed out that the comedy 'doesn't really explore the psychological effects of living this massive lie'.
On his Warming Up blog, Herring previously explained that Everything Happens For No Reason is 'really about human relationships and human choices and human regrets. And I want to properly explore the mechanics of having an affair in a situation that your partner can never find out about (I think Goodnight Sweetheart went for farce on this, rather than considering the real implications on one's happiness). 
'Would you feel OK about it if you knew you couldn't be caught, or would the guilt still eat away at you? Is it just the danger of discovery that makes having an affair exciting and terrifying at the same time?'
Goodnight Sweetheart was revived after a 17-year absence last year as part of the BBC's landmark sitcom season. (Review)
Herring is also working on a four-part multi-generational family sitcom for Radio 4.
Relativity is described as being about 'death, birth, falling in and out of love, resentment over forgotten slights and indestructible affection'. It is to be recorded in March for broadcast in the summer.
Herring also continues with his online sketch and stand-up series As It Occurs To Me, which is recording its next episodes at the Leicester Square Theatre on January 15 and February 12 (tickets). This is on top of his 'best-of' stand-up tour (dates), and his Leicester Square Theatre Podcast, which is lined up for two more series this year.
Published: 4 Jan 2017
Recent News
What do you think?