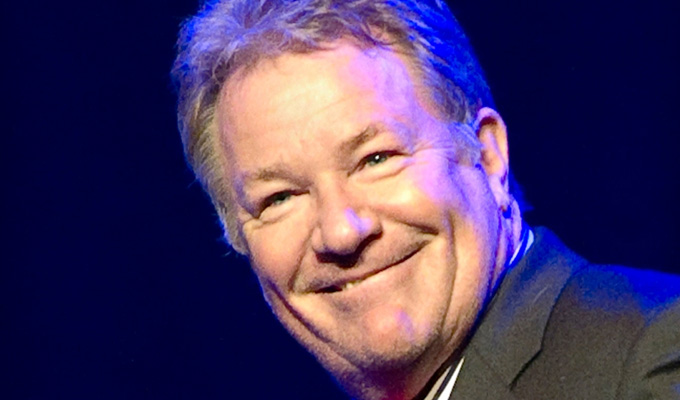 Jim Davidson becomes full-time charity boss
Jim Davidson is to become the full-time chief executive of veterans' charity Care After Combat next year.
The comedian founded the organisation in 2014 to help military veterans who end up in prison, or with drug or alcohol problems.
He said that when he takes over the CEO job at the end of his tour in February, it will be 'the first real job I've had since I worked at the Co-op' as a teenager
But he insists his new role doesn't mean he'll be quitting stand-up, saying: ' I have to go on stage to give me a bit of Light Relief after the terrifying job of being responsible for 60 staff and 150 veteran prisoners.'
Davidson already holds the chief executive's post in an interim capacity, after former boss Derek Cole left last year. Cole has said his decision to quit was prompted by Davidson drawing a salary for his role as chairman, reportedly £43,000 plus £11,000 in expenses.
Accounts have been filed for the 15 months to October 2015, which show that the charity raised £250,000 and that it paid its two staff £68,000.
But earlier this year it received a £1million shot in the arm from the Libor fund, set up by George Osborne to channel fines levied on banks from rigging the Libor lending rate to veterans' charities.
Writing on his blog, Davidson said his job would be to raise £400,000 a year, adding: 'I have a good team and I'm confident that we can continue helping veterans get their life back.'
Davidson is a trustee of the charity alongside Falklands hero Simon Weston, singer Katherine Jenkins and decorated ex-paratrooper Gary 'Goose' Cryer.
The comic, a Tory supporter, has feted leading Conservatives to back the charity, including Osborne, Iain Duncan Smith, and Philip Hammond, while Theresa May, has attended a fundraising ball.
Published: 19 Dec 2016
Recent News
What do you think?