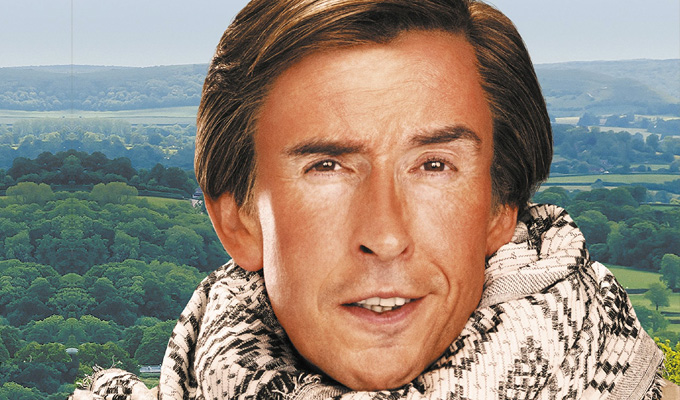 Where a Partridge flies
This week's best comedy shows on demand.
Alan Partridge: Nomad
Publishers Orion have generously released the second chapter of the 'beautifully punctuated' Alan Partridge book Nomad for free, in the hope of teasing you enough to buy the full audiobook (And click here for the CD). The sample here gives a good idea of why the Norwich presenter decided to embark on his mission to follow in his father's footsteps… nothing to do with broadcasters' love of making programmes about literal and metaphorical 'journeys', of course. Steve Coogan's creation is, of course, petty, immature and deluded as ever. and its a delight to hear his clunky prose in his own voice. Rad our review of the text version here.
Sexy Murder
Rich Fulcher's take on the sexed-up true-crime docu-dram, originally released as six five-minute shorts, is now available in one full half-hour episode on BBC iPlayer. In it he plays truth-seeker Christoph - 'call me Christ' Spinelli is in search of a miscarriage of justice to defend (or maybe create). Watch it here
Funny As Hell
American comedy-on-demand service Seeso has put the first episode of its stand-up show Funny As Hell up on YouTube, featuring Kurt Metzger, Mary Lynn Rajskub (who you might know from 24 or from her Edinburgh show earlier this year) and Sean Donnelly. It was recorded at the Just For Laughs festival in Montreal and is hosted by Jon Dore.
In Your Dreams with Chris Gethard
One of the hits of this year's Edinburgh Fringe, in this new podcast American stand-up Chris Gethard explores the dreams of his listeners. Hearing about other people's nocturnal unconscious li imaginings isn't always the most interesting thing on the planet, but Gethard has form in drawing out the best in folk, as listeners to his other podcast, Beautiful Stories From Anonymous People, can attest. It's co-hosted by comedian and 'self-described dream analyst' Gary Richardson with guests including including Bobby Moyniha and Wyatt Cenac. The first half-hour episode of In Your Dreams is available now, and new episodes will be released weekly until January 30.
Published: 17 Dec 2016
Recent News
What do you think?