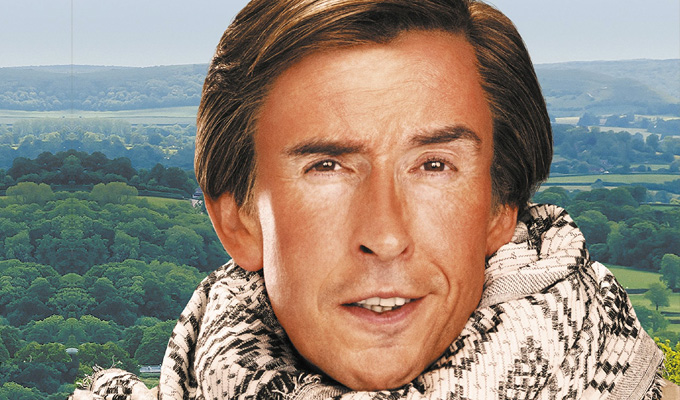 Alan Partridge: Nomad
Twenty-five years years after making his debut on Radio 4's On The Hour, Alan Partridge is the comedy gift that keeps on giving. He's a grandfather now, we learn in passing from his new book Nomad, but still as petty, immature and deluded as ever. 
His inner monologue is that of a lonely child, making up games in his head to distract himself from his lack of popularity and replaying old quarrels so he – naturally – 'gets the last laugh'. And that's the joy of the book form, that gloriously unselfaware inner voice coming to the fore. You hear every paragraph in Partridge's voice even in print. So the Steve Coogan's  audiobook version is sure to be a joy.
Coogan and co-writers Rob and Neil Gibbons know the character inside-out, and the the prose here – as in the I, Partridge memoirs from five years back – is hilarious, with its inelegant variation (asphalt is referred to as 'the popular road surface'), clunky adjectives and metaphors, over-explained quips and phoney erudition, all laboured without sacrificing readability.
In Nomad, Partridge embarks on a mission to follow in his father's footsteps, driven entirely by a desire to pay tribute to his dad and become closer to him and not at all because he's spotted a trend for broadcasters to make literal and metaphorical 'journeys'. That's just coincidence, and the fact it takes 141 pages for Partridge to even mention his father's name is surely just an editing oversight.
The route North Norfolk's premier mid-morning phone-in presenter chooses to recreate is from his childhood home in Norwich (now demolished to make way for a Carphone Warehouse office) to Dungeness nuclear power station in Kent, where Partridge Sr once had a job interview. Dad drove, but Alan has stocked up with top-of-the-range kit to walk it.
En route, this East Anglian Don Quixote offers his opinions on Noel Edmonds ('total wazzock'), encounters the likes of Gyles Brandreth ('absolute A-hole'), Nick Knowles ('a big horrible git of a man') and reminisces about the siege in his workplace (as told in that documentary movie Alpha Papa), the love that got away and his assistant being duped by a Nigerian email scam. Oh, and occasionally mentions his father and the inconsequential day he had a job interview, which clearly means nothing to him.
This being Partridge, the endeavour doesn't quite go to plan, and he takes a massive ill-advised detour, despite a self-inflicted wound getting rather grisly, described in grusomely funny passages.
The book perfectly and hilariously captures Partridge's self-delusion and parochialism, both in what it says and the way that it says it. From the 'acknowledgements' plate – 'On this occasion there is no one I wish to acknowledge. Thank you' – to the index ending: 'Wilmot, Gary; Wisp, Will o' the; Witchell, Nick' – it's an hilarious read.
• Nomad, by Alan Partridge was published by Orion yesterday, priced £20. It is available from Amazon for £9.50.
Published: 21 Oct 2016
What do you think?