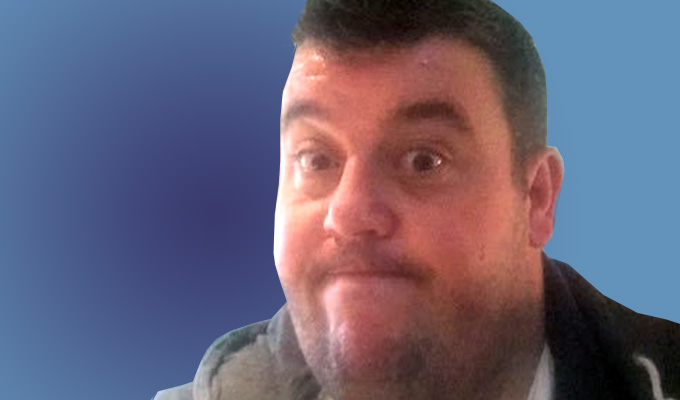 The most optimistic use of the word 'celebrity' ever...
• 'I have some sensual love-making scenes which are really weird to do on film… but I quite liked it.' Dawn French speaking about her new drama series Delicious on the Graham Norton Show tonight.
• We know 'celebrity' shows can stretch the definition of the word, but this could take the biscuit. A comedian called Danny Miles has signed up for the next series of Celebrity Fat Fighters alongside EastEnders actor Riley Millington and Ex-Towie person James Bennewith. We had to admit we hadn't heard of Miles here at Chortle, and most Google searches just come back with the fact he's going to be on the TLC weight-shedding show, and no further references. But further digging has revealed that he is based in Brighton and on his Twitter account describes himself as a 'part-time compare and comedian'. Mis-spelling of his own job title of 'compere' aside, how many Twitter followers does this 'celebrity', pictured above, have? Just 78.
• Want to see Al Murray dancing in a fat Santa outfit? Course you do…

Make Christmas Great Again pic.twitter.com/OWKFNwa3I7

— Al Murray the318 (@almurray) December 15, 2016
• Donald Trump could spell the end of 'ironically' racist or sexist comedy… says the man who did so much to popularise the style. Ricky Gervais told the London Evening Standard: 'I used to go out and ironically be the idiot and say the wrong thing but now I don't want to be on their [Trump supporters'] side. I don't know what my position is in the world.'
•
Australian comic Josh Thomas has admitted having a hair transplant. The 29-year-old said that after the treatment, he could no longer watch series one of his show Please Like Me 'because my hair looks so weird.... I was just bald.' He told Melbourne newspaper The Age: 'I got a hair transplant between series two and three. They cut a strip of your hair from around here, and they slice it into tiny pieces, and sew it on here. It grows forever. People who go bald either aren't paying attention, or don't want to take a pill every day that slightly adjusts their hormones. But I feel very comfortable taking any pill that gives me any moderate gain.'
• Edinburgh's new Monkey Barrel comedy club was a given a phone number that used to belong to one of the city's infamous saunas. Promoter Ben Verth says: 'My favourite incident was when a someone rang up asking who was on that night and I said 'former Scottish Comedian of the Year Larry Dean… and we've got Michael Redmond and…' and the voice on the other end of the phone cut me short and asked: Big Jessica not working the night, naw?'
• That story came courtesy of blogger John Fleming, who also reports that a man was handing out flyers to audience members attending a show in Paisley by his pal Janey Godley saying [verbatim]: 'I believe "janey godley" to be a character played by an actress who is under the employment of british intelligence to carry our fake events in ther public arena for social and phsycological engineering purposes.'
•
It is a moment in television history that's up there with the Moon Landings and the Kennedy Assassination. So understandably you'll want a souvenir to commemorate the argument Kim Cattrall's Samantha had with Sonia Braga's Maria in season 4 of Sex And The City. Well now you can, as this commemorative plate is now available from Think 1994 for $40.
• Ross Noble fan Lorna Chandler isn't going to see him on tour this time around. But she has a very good reason, as she revealed on Twitter: 'Cos the last 2 times I did me cats died, down to me last cat!'
• Theresa May is like a stand-up comedian… or at least so says a senior Iranian politician. Saeed Jalili, Supreme Leader Ali Khamenei representative on the nation's National Security Council, was responding to the PM's comments about the threat Iran poses to the Middle East. 'Remarks by Theresa May are akin to a stand-up comedy,' he said
• Printing company Vistaprint have banned Chris Evans, owner of indie DVD label Go Faster Stripe, for life after asking for a cartoon of Hitler on a postcard. Even when he explained it was to promote a comedy release, they would not relent:

So @Vistaprint wouldn't print this image on a postcard +have banned @gofasterchris for life from using their service pic.twitter.com/Mujm1qNZ0O

— Richard K Herring (@Herring1967) December 12, 2016
• Michael Palin is in panto. Or at least a recording of him is, as he plays the Magic Mirror in Snow White and the Seven Dwarves at the Lyceum Theatre in his native Sheffield.
• The ten-year-old granddaughter of American comedy legend Buddy Hackett has launched her own showbusiness career. Asheigh Hackett - whose other grandfather is Motown songwriter Ron Miller (who penned Stevie Wonder's For Once in My Life) – has released a single called Slay with lyrics like: '5-6-7-8 no more songs of fear and hate. Watch and listen for a while and you will learn it Asheigh style'. Buddy, who starred in It's a Mad, Mad, Mad, Mad World and The Love Bug, died in 20013 at 78. Here's his grandkid's video:

• 'I have never met Frankie Howerd.' Irish comedian Al Porter (born 1993) on his comedy hero (died 1992)
Tweets of the week
Whenever I see a guy vomiting Im like, "guess you shouldnt have eaten all that vomit you idiot."

— BleachCobbler (@Puercotron) December 11, 2016
The fatal design flaw of the next Death Star will be a no headphone jack.

— GAIL SIMONE (@GailSimone) December 15, 2016
Of course my giddy aunt's real name is Auntie Clockwise.

— Gary Delaney (@GaryDelaney) December 7, 2016
Published: 16 Dec 2016
What do you think?