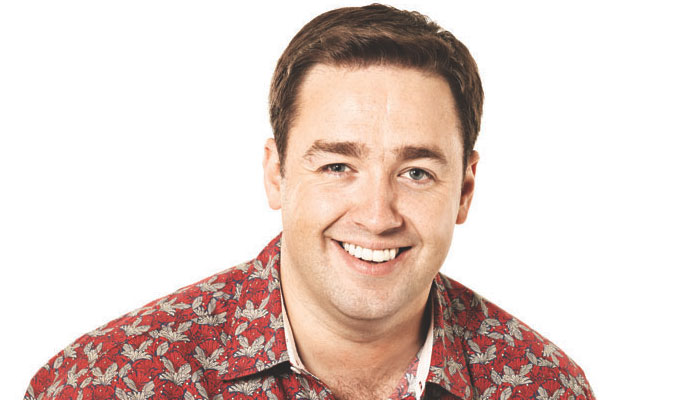 Jason Manford creates his own kids' cartoon
Jason Manford is taking on 'fat shaming' Peppa Pig with his own children's cartoon.
The comedian wrote and stars in Daisy & Ollie, with a broadcaster set to be announced soon.
The animation is made by CHF Entertainment, the company founded by Danger Mouse and Count Duckula creators Brian Cosgrove and the late Mark Hall, after the original Cosgrove Hall Films were wound down by owners ITV in 2009.
Aimed at a pre-school audience, 52 seven-minute episodes of Daisy & Ollie have been ordered. Manford said: 'It's great, it's really good fun, it's a really nice toddler cartoon.'
Speaking on his Absolute Radio show, the father of five admitted: 'It takes so long to make a cartoon that I made it for my daughters and now they're no longer interested in cartoons. But … hopefully it'll be really good fun and it'll be a success.'
Manford voices the dad of the titular Daisy and Ollie, two children accompanied by a monkey and robot who are full of 'intriguing questions' in episodes with titles such as Why Do We Have Shadows? and How Do We Stop Hiccups?
Producers say the 'series will endeavour to answer them in a fun and interesting way, encouraging the audience to be curious and discover the world around them'.
A regular critic of the popular Peppa Pig cartoon, Manford told his radio guest Justin Moorhouse that Daisy & Ollie was 'really hard to write because you've got to write these five minute episodes, and at the end of the episode you've got to tie all the little strands together, the storylines together, the characters together … is there a message, a positive message for children? All that.'
And he complained that 'at the end of every episode of Peppa Pig they go, "Right how are we going to end this one?" "Shall we just have them falling on the back and laughing? Yeah, yeah, do that." Or jumping in muddy puddles? That's literally the end of every single episode.'
The week before, he had complained to Laura Lexx that: 'I've got to say - and maybe it's because I'm a big lad myself - but the constant fat shaming of Daddy Pig is starting to get under my skin. There's something about Peppa Pig that drives me mad. The kid is rude, she's obnoxious. She's a terrible friend. She's an even worse big sister'
'I can't see why she's allowed on the telly. She's just a pig. And I mean that in both senses of the word. She's a pig and a little cow at the same time.'
Earlier this week it was announced that Jo Brand and David Mitchell would be voicing characters in new Peppa Pig episodes to be released in cinemas on April 7. Brand voices Mrs Crocodile in Peppa Pig My First Cinema Experience while Mitchell plays Policeman Panda.
CHF Entertainment's first cartoon, Pip Ahoy!, featuring the voice of Sir David Jason – the original Danger Mouse and Count Duckula – currently airs on Channel 5.
The rebooted Danger Mouse, with Alexander Armstrong as the voice of the rodent hero and Kevin Eldon as his sidekick Penfold, began airing on CBBC last year and has been recommissioned for a second series.
- by Jay Richardson   
Published: 14 Dec 2016
What do you think?