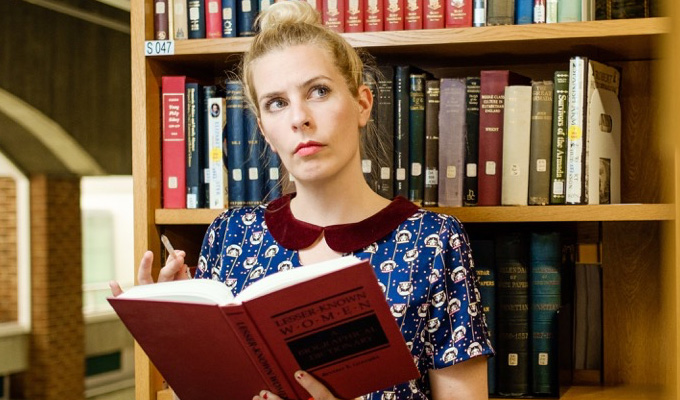 Sara Pascoe's Animal wins a QI endorsement
Sara Pascoe's Animal has been named one of the ten most interesting books of the year by QI.
However, the list's credibility has taken a blow by including a new book of QI facts – which makes the exercise look a little like a flimsy marketing gimmick in the run-up to Christmas.
Nevertheless, the company promises the Quite Interesting Book of The Year award will be an annual event – although there is no single winner, ten are honoured.
The QI 'elves' said Pascoe's book, subtitled The Autobiography of A Female Body, 'blends her trademark wit and humour with autobiography and evolutionary history as she examines our collective pasts for clues as to how and why certain behaviours and norms have developed.
'From ancient diets to body confidence, and from consent to childbirth, Animal is packed with jokes, smart observations and comes with an extensive further reading list. A brilliant read which is as funny as it is remarkable.'
Click here to read our review of Animal, or here to buy it.
QI elf Anne Miller said: 'QI we read everything from cereal packets to the Encyclopaedia Britannica. These are our favourites and the ones we would hope to have if stranded on a desert island.'
The other titles on their list are are
Overcomplicated: Technology at the Limits of Comprehension by Sam Arbesman
Penguins, Pineapples and Pangolins: First Encounters with the Exotic by Claire Cock-Starkey
A World Gone Mad: The Diaries of Astrid Lindgren, 1939-45, by Astrid Lindgren Translated by Sarah Death
The Naming of the Shrew: A Curious History of Latin Names by John Wright
The Underground Railroad by Colson Whitehead
The Invention of Nature: The Adventures of Alexander von Humboldt, the Lost Hero of Science by Andrea Wulf
I Contain Multitudes: The Microbes Within Us and a Grander View of Life by Ed Yong
1,342 QI Facts To Leave You Flabbergasted by John Lloyd, John Mitchinson, James Harkin and Anne Miller ​
Published: 7 Dec 2016
Recent News
What do you think?