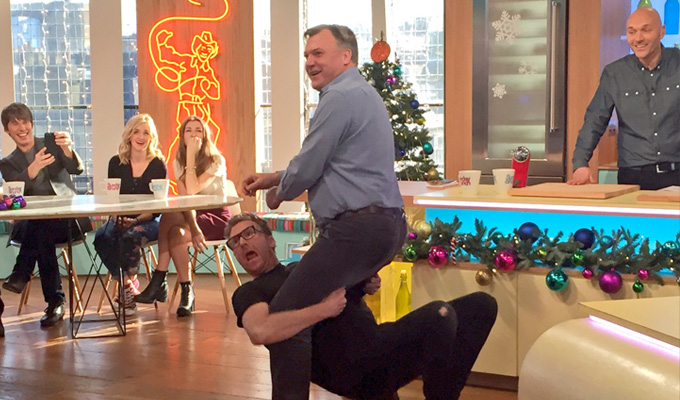 Jason Byrne just presented Sunday Brunch
Fans are calling for Jason Byrne to become a full-time presenter on Channel 4's Sunday Brunch when he stood in for usual host Tim Lovejoy this morning.
But his chaotic style divided viewers of the weekly show, with Twitter split between those who loved and hated him.
Simon Rimmer opened the show by announcing that Lovejoy would be missing as he was off sick with a bad back, prompting one viewer to say it was 'like Ant without Dec.'
But Byrne won over some fans with his antics, not least with a memorable Gangham-syle dance with former Shadow Chancellor Ed Balls, in honour of the politician's stint on Strictly Come Dancing.
Johnny Vegas led the praise for said it was 'quality stuff' and with the hashtag '#chaosreigns.'
Former Labour candidate and freelance writer Jono Read said: 'This is the weirdest but greatest Sunday Brunch in ages. Jason Byrne and Ed Balls doing Gangnam Style, Pete Tong eating dessert and Bastille.'
Other praise included:
@SundayBrunchC4 @edballs @thejasonbyrne awesome television. Great show today guys. 😂😂😂😂

— Tim Wolstenholme (@AWatsonMenswear) December 4, 2016
@SundayBrunchC4 Jason Byrne was just brilliant on the show. Permanent presenters role would be good. I'd watch.

— GM Jordan (@GM_Jordan) December 4, 2016
Can we please make @thejasonbyrne a regular on @SundayBrunchC4 .. laughing out loud here

— Aoife Somers (@aoifesomers) December 4, 2016
Watching Sunday Brunch and Jason Byrne has replaced Tim Lovejoy, absolutely hilarious. Get him on Soccer AM 😂😂😂

— Darren Hayes (@daz100foot) December 4, 2016
But not everyone was happy, with many complaining of Byrne constantly interrupting guests:
Can #SundayBrunch please never invite this Jason Byrne prick back. How to ruin a show with one idiot!

— Daz Gale (@dazgale) December 4, 2016
@thejasonbyrne talk about keep butting in when Brian Cox was talking. Ruined an interesting interview #sundaybrunch

— Will (@tarby64) December 4, 2016
If Jason Byrne thinks he can out do Bradley last week.... No chance sunshine.. your ego is way to big for your actual talent. #sundaybrunch

— JULIE CRUMPTON (@kaleidobrain) December 4, 2016
What the hell are the producers of #SundayBrunch thinking with Jason Byrne @SundayBrunchC4 utter car crash

— Aaron Matthews (@aaronmatthewsuk) December 4, 2016
• Byrne has just released his memoirs, Adventures Of A Wonky-Eyed Boy. Read our review here.
Published: 4 Dec 2016
What do you think?