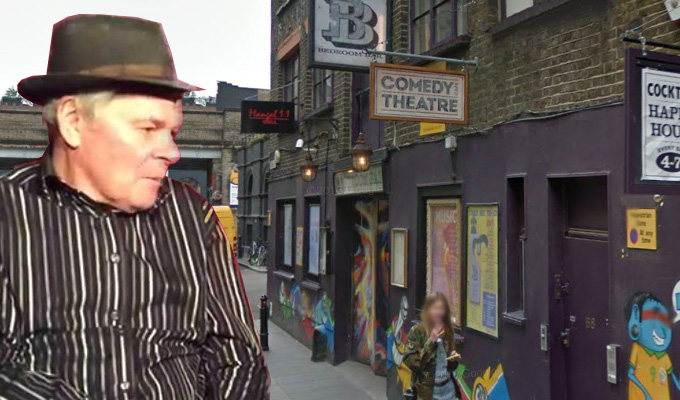 Last orders at the Comedy Cafe
London's Comedy Cafe is to close at the end of the year, after 26 years in business
The venue in Shoreditch, East London, has lost its lease after being gazumped by the owner of ten local bars.
Owner Noel Faulkner said he was outbid by £80,000 a year, a fee that it would be unviable to match from comedy
'I am looking for a new venue, but it has to be free rent as we just don't get enough punters to make any real money,' he told Chortle.
And in another interview with blogger, John Fleming, he said there had been 'very little support in the comedy business…. Big names play your club once and then, after that, they're too busy to come back to you.'
And he said there were 'an awful lot of wankers in the business'.
Four years ago Faulkner closed the main room of his club to move to a more intimate 100-seater space in the Bedroom Bar upstairs – and added the word 'theatre' to try to appeal to genuine comedy fans rather that the rowdy City types and self-consciously trendy types who were flooding the newly-fashionable area.
Faulkener originally started the club as a friend had a phone business in the building and decided to open a small coffee shop downstairs, which started putting on comedy. Faulkner, a former comic and actor, was asked to run it.
The venue gave early breaks to the likes of Lee Evans, Jo Brand, Ed Byrne, Jimmy Carr and Daniel Kitson.
Published: 2 Dec 2016
What do you think?