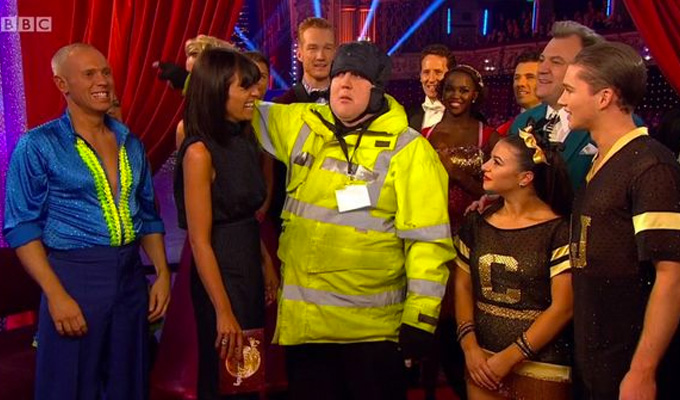 Was Peter Kay homophobic on Strictly?
Peter Kay has been accused of making a homophobic joke on Strictly Come Dancing last night.
The comedian made a surprise appearance on the BBC One show, posing as a member of the Blackpool ballroom staff in high-vis jacket.
But when he joked around with contestant Judge Rinder, who is gay, it didn't go down well with all viewers.
As Kay lined up with contestants and host Claudia Winkleman to read the terms and conditions of the phone-in vote, he spotted the barrister in the crowd and trilled: 'Let me say hello to this fellow - he's brilliant!'
Judge Rinder then smiled and stepped closer to him for a hug. But as soon as he touched Kay, the comic jumped away as if he'd been fondled.'Steady!' he cried out. 'Watch it,me lad. Watch it. This case is firmly closed.'
His comments divided the audience.
One viewer called Emma Fitzgerald tweeted: 'Isn't Peter Kay just making 70s homophobic jokes there about rinder? Am I missing something?!'
David Lewis added: 'Peter Kay entering the nostalgic Blackpool spirit with a shitawful homophpbic "joke" Bernard Manning would be proud of'
And Alister McClure tweeted: 'Peter Kay makes homophobic innuendo and calls it comedy.* sigh*'
Other comments included: 'Not entirely comfy with the slightly homophobic routine Peter Kay just did then. Or is it just me?'; 'Is Peter Kay allowed to get away with homophobia just because he's Peter Kay?' and 'Rurns out Saturday night family TV at the moment in the UK is just casual homophobia... '
However others praised Kay for being 'brilliant' – and Peter McPherson summed up the reaction of many when he said: 'Seriously people really need 2learn the difference between homophobia & a joke. Don't miss use words like that.'
Mirror TV critic Ian Hyland said: "I see Peter Kay is being accused of homophobia. What he said was a bit off but I doubt Judge Rinder was remotely offended. '
Rinder married his long-term boyfriend Seth Cumming in Ibiza last year – in a ceremony officiated by Benedict Cumberbatch, an old friend of Rinder's from Manchester University.
Published: 20 Nov 2016
What do you think?