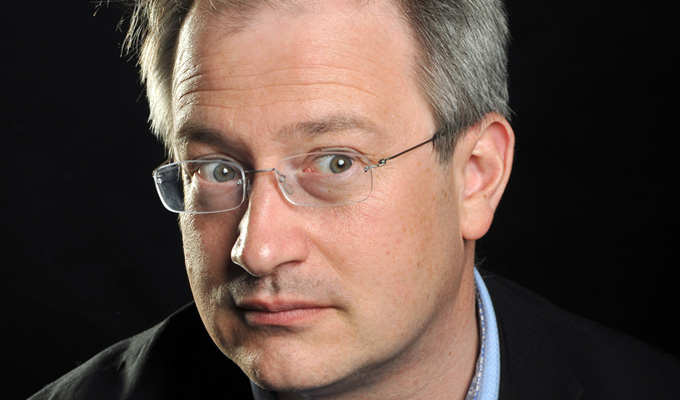 Robin Ince falls foul of Canadian immigration
Robin Ince had to miss a show with astronaut Chris Hadfield this weekend, after falling foul of Canadian immigration.
The comedian and co-host of Radio 4's Infinite Monkey Cage had been due to make a flying visit to Canada for a science-based variety show similar to those he popularised in the UK.
But when he got to Heathrow, he discovered immigration rules had changed just two days earlier – requiring him to have an electronic visa exemption before travelling.
Barred from boarding the flight without one, he spent five hours feeling 'miserable as sin' and trying to sort out the documentation – which finally arrived but too late for him to make the Generator gig in Toronto.
He tweeted: 'I am miffed and I am sad that I fucked up at the last hurdle.
I hope everyone has a great night at Chris Hadfield's Generator.
Frustration, dashed hope, now the nausea of failure and disappointment with self.'
Later, he wrote in a blog post that he hoped others could learn about the new regulations from his experience.
Writing in the present tense he said: 'I have been psyching myself up for this mad trip for weeks. My body is pumping with all the adrenaline I needed for this jaunt.'
But after the Air Canada staff explained the situation he said: 'I sit. I seethe. And I apologise. Much money wasted. Much time wasted….
Let this be a warning to all of you who do not double check. I am a dull Aesop's fable, I didn't even kill a friendly amphibian to prove a point or make a metaphor.'
Since November 10, British travellers to Canada have to apply for an Electronic Travel Authorisation (eTA) similar to travel to the country without a visa, similar to the ESTA programme in the US. Although it can come through in minutes, that is not guaranteed – as Ince found.
Author Neil Gaman, who was also on the Generator bill, also missed his flight because of the new requirements, but managed to get the eTA in time to make the show.
Ince has drastically cut back on his stand-up appearances this year, and has only one solo show currently planned next year, at the Leicester comedy festival on his 48th birthday. He co-hosts the Book Shambles podcast with Josie Long, with Alexei Sayle their guest on the latest episode.
Published: 14 Nov 2016
What do you think?