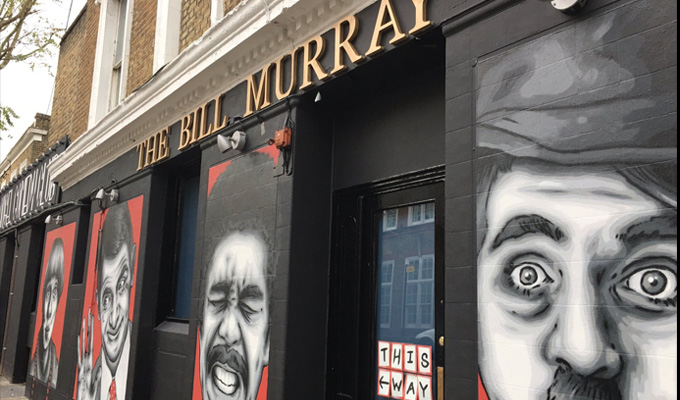 Pub named in Bill Murray's honour
The new home of London's Angel comedy club is to be called The Bill Murray.
Comedians behind the venue wrote a letter to the Hollywood star saying: 'We'd like to create a legacy by honouring someone important to us and who reflects the spirit of what you do. For us, you were the only choice.'
However, with a looming deadline to confirm the name of the pub and without the actor's explicit permission, they decided with tongue in cheek to name it after William Murray, the first Earl of Dysart, who was the childhood whipping boy of Charles I of England and later, an adviser to the king.
In their letter to comedian Murray, they said: 'You may never see this message and we really don't want to cause any problems.' 
Barry Ferns, the club's regular compere, told Chortle: 'The Bill Murray is a wonderful name for a pub. It is a bit of a dream to house Angel Comedy in a pub called The Bill Murray.
'And we love all Bill Murrays without discrimination - from 16th, 17th, 18th and 19th Century Earls, to cartoonists, to politicians, to sports personalities to inspirationally funny comedians and actors. We might love one Bill Murray more than all the others, but we couldn't say which, not at all.'
The outside of the Islington venue has been decorated with giant pictures of comedy greats including Charlie Chaplin, Richard Pryor and Rowan Atkinson as Mr Bean
Events have already been held at the venue, formerly a pub called The Mucky Pup, but its official opening is to be held next Tuesday, after supporters of the club contributed £46,000 to a crowdfunding drive to get the premises up and running.
The actor Bill Murray got his start at the Second City improv troupe in Chicago – and the new Angel is to be the London home of the group, hosting lessons and shows.
Murray is famously detached from the Hollywood scene, with no agent or manager, and is famous for making impromptu appearances at private events, telling the people he parties with: 'No one will believe you...'
• Ten pubs named after comedians.
Published: 10 Nov 2016
Recent News
What do you think?