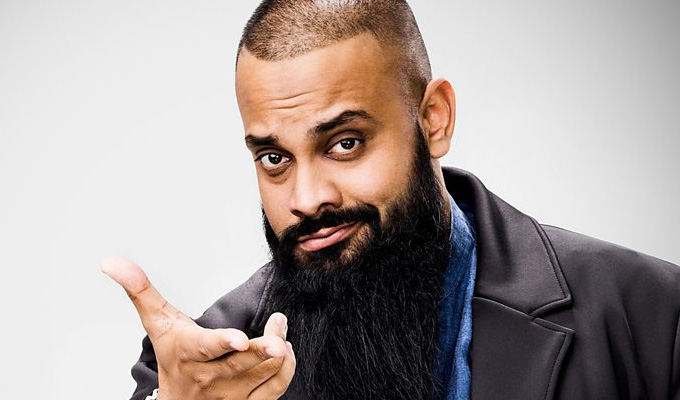 'A year ago I was selling dope...'
Guz Khan has joked that he sold cannabis at the same time as being a teacher.
The comedian was reflecting on his burgeoning comedy career when he quipped: 'This time last year I was still selling weed.'
And it was last summer that he gave up his job teaching humanities in Coventry for a comedy career, after his online sketch about Jurassic World being racist went viral.
Since then he has made a short film for a BBC Muslim comedy series, had a recurring role in Channel 5's Borderline,and appeared in Zapped and Drunk History. And he is the star and creator of one of Sky's new horror-themed comedy shorts, alongside the likes of Jason Manford and Ross Noble.
Speaking at the launch of the shorts, he said: 'I can't believe I'm sitting here next to Jason Manford. This time last year I was still selling weed so you've put a former drug dealer on TV - well done!
And Khan – often jokes about a fictional shady past – said: 'That's why my classroom control was so good, I was just banging it out to them. I was quite "thug life" as a teacher. Other teachers would get terrorised every day, [but not me]'
At the event Manford also spoke about the challenges of working within Sky's budget, saying that his inspiration came from thinking: 'How am I going to make a film with £25,000?'
'So I thought what I'll do is I'll set it all in one room and just have four of us in it,' he said. 'So that's where my inspiration came from: I wrote my story to the budget.'
Backtracking a little, he conceded: 'I know 25 grand is a lot of money... but not for Rupert Murdoch.'
For comparison, the crowdfunding appeal launched this week to save Raised By Wolves is seeking £320,000 for a single episode.
But Manford said the tight budget did lead to inventive problem-solving. 'There is something about given a certain amount, it does bring out a different creative side because you do have to find a way around things,' he said. 'Some of the people we got in thought of ways of doing things that we would never have thought of.'
And after also serving an executive producer on Noble's short, he challenged the notion of know-nothing TV executives interfering needlessly with comedians' creativity.
He said: 'A lot of comics have this theory that people making telly don't know what they are doing and we know what we are doing as we are comics and when we do a joke, we know exactly how it went.
'I think what you learn through the years is that there are people, no matter what they have decided to do, there are people who are just as good at their job as you are at yours. They just have a gift in a different way.
'There are a few blaggers, we all know there are plenty of blaggers in the television industry but there are people taking great chances and making great telly as well.'
• The shorts will be available on demand from tomorrow and screened on Sky Arts later in the year. The comedians talk about their films here.
Published: 20 Oct 2016
What do you think?