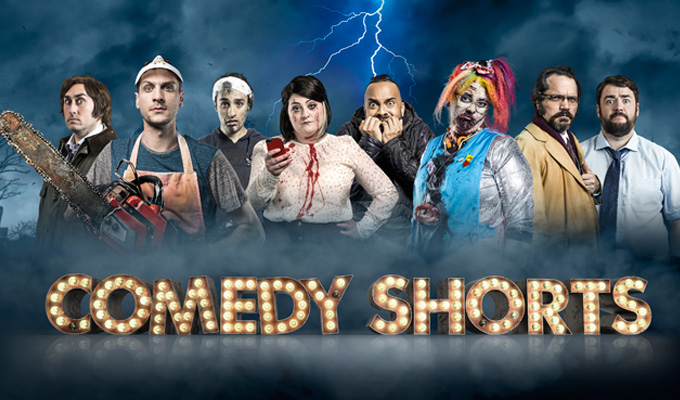 All the fun of the fear...
Sky releases its new series of comedy shorts tomorrow, all with a horror theme just in time for Halloween. The season was launched in London earlier with the creators explaining more about their inspiration. Here's our guide to the eight films, and what the stars had to say about them...
Jason Manford: That's The Spirit
This seems very well timed, since this year's big Halloween movie is Ouija: Origin Of Evil. And in Manford's film, two teenage siblings – one a believer, one sceptic – are caught by their parents using such a board to contact the dead.
It's warm-hearted more than scary and Manford said the family setting reflects his own dilemma, caught between work and family. 'I'm just at a stage of my life, doing comedy and having kids at the same time, where it's slightly bitter-sweet,' he said. 'I love doing stand-up but then I also miss being at home. That comes through in my writing a bit.'
Matthew Holness: Smutch
The creator of Garth Marenghi once again plays a middle-aged horror writer in this parody of the Hammer and Amicus films of the 1970s.
Oswin Thaddeus Tow is a grouchy, self-important author, holed up in his mansion (and a slave to his bladder) who becomes infuriated to learn that his publisher have assigned him a ghost writer.
Holness says his inspiration was a writer called Basil Copper. 'He wrote supernatural novels when they were just being squeezed out and the James Herbert stuff was coming in,' he explained. 'He wrote one book that was absolutely ripped apart by his publishers and he became really depressed as a result and stopped writing, so there was something nice and tragic in that.'
As you might expect, Smutch – which co-stars Jim Howick and Clive Merrison – captures the melodramatic camp of the era beautifully, even if the plot doesn't make a whole lot of logical sense…
Jayde Adams: Bloody Tracy
Edinburgh Comedy Award best newcomer nominee Jayde Adams plays Bloody Tracy, a gobby, larger-than-life ghost who haunts the supermarket where she once worked.
She said her film was an antidote to the traditional ghost story,saying: 'Whenever you see ghosts or ghosts are mentioned, it's always in Victorian buildings and they are always wearing posh clothes.
'But I know people who are dead and if they are ghosts they wouldn't be haunting me in a haunted house I happen to come across, they would be trying to find me when I come down Morrisons, so I thought "I'll put her in a supermarket".
'Also mum works in a supermarket so she feels like I'm connected to her in that way…'
And that wasn't the only reason. 'I did it as a cashier because my only two other TV roles I've got are as cashiers. I'm into the idea of a trilogy and I've got that now so hopefully that will stop that typecasting…'
Jamie Demetriou: Oh God
This is easily the most off-the-wall and creative of the set, with Demetriou playing a man who's turning into a car. It is inspired by the work of Being John Malkovich screenwriter Charlie Kaufman, and full of disturbingly funny moments as the strange transformation takes hold. It also his sister Natasha alongside Williams, Ellie White, Ben Ashenden and Arnab Chanda.
In what could be a clue to its inspiration, Demetriou said: 'I was in loads of car accidents growing up because my dad's a terrible driver.'
But he said he was, erm, driven to write this script because of the isolation his lead character goes through. 'The first thought was the scariness of people not being sympathetic to something really mad and horrible,' he said. 'That felt like the scariest thing to be, being alone and the worst thing happening to you.'
He added that he enjoyed the challenge of making a horror-thriller, saying: 'It's exciting to make the beats spectacles or tearjerkers as opposed to gags.
Kiri Pritchard McLean: I've Got Your Number
Pritchard McLean plays an office worker tormented by an irritating colleague, well played by comedian Jordan Brookes. Then one days she receives a text from an unknown number that could provide the answer to her annoyance....
'I've genuinely had murderous thoughts about people I've worked with, she admitted. 'I grew up on a farm and there was one person in particular I had a literal plan of how I would dispose of her body.'
She also admitted that she has engaged in dialogue with strangers – after opening mail addressed to former residents of her home.
'I was writing to a guy in prison because I used to open the post indiscriminately,' she confessed. 'I thought, "this could be fun" but they just used to want to see pictures of my tits. And I was the wrong person so I didn't want to disappoint them.'
Guz Khan: Frightbusters
Khan and Sunil Patel play stoned conspiracy theorists Bongs and Ali, who appear on a a YouTube show for fans of the supernatural, hosted by Alex MacQueen. On it they tell the story of how they encountered the secret white demonic elite ruling the world (represented here by Totally Tom's Tom Palmer)
Khan said he was inspired by the racist sentiments unleashed by the Brexit campaign which have made 'a lot of brown people very scared'.
'There were a lot of conspiracy theories so we were trying to tell that story, and have a laugh too – because at the time things got a bit nasty'.
Ross Noble: The Catchment
Horror fan Noble makes his directorial debut with The Catchment, its excellent title already suggesting a supernatural cult.
The film is about a couple who move to be in the catchment area of a good school – with the estate agent (Cariad Lloyd) finding a house that's suspiciously cheap.
Seeing Noble with his usually manic hair gelled down is only one of the unsettling things about the short, which portrays the naked ambition of pushy mum (Shauna McDonald) as the real monster. And Richard Herring makes a cameo as a neighbouring parent.
Noble wasn't at the launch event, as he's on tour with his Brain Dump stand-up show.
Steen Raskopoulos: Scare BnB
There is a raft of stand-up stars in this gag-driven story of a couple who rent out their haunted house to horror fans looking for thrills.
In a sort-of update on Rentaghost, Nish Kumar and Susie Youssef play the actual spirits employed to put the willies up the guests; while John Kearns plays a sceptical blogger who the hotel's owners (Raskopoulos and Sara Pascoe) are keen to impress.
Raskopoulos was not at the launch either.
• The shorts will be available on demand from tomorrow and screened on Sky Arts later in the year.
Published: 20 Oct 2016