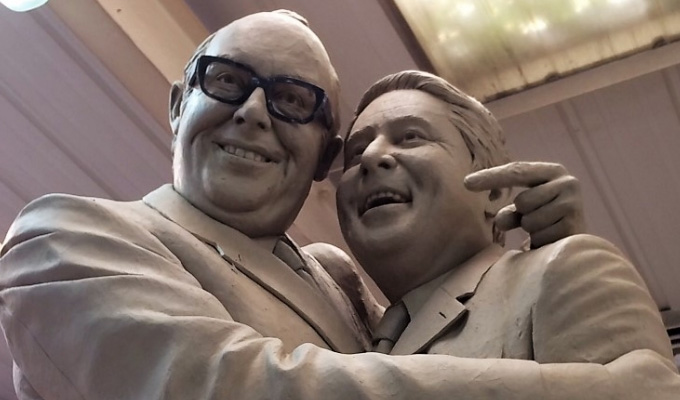 You can't see the joins...
The first statue of Eric Morecambe and Ernie Wise together has been unveiled in Blackpool.
It sits in the foyer of the Winter Gardens in Blackpool, a town they performed at more than 1,000 times during their 43-year career.
Fans donated £75,000 to fund the eight-foot bronze, which was commissioned to celebrate the 75th anniversary of the pair's first appearance on stage together in Nottingham in 1941 – was funded by donations
Morecambe's widow Joan unveiled the statue and said: 'We never dreamt of seeing a statue unveiled to both Eric and Ernie in Blackpool, a town that we have so many happy memories of, from all the many shows the boys performed there over the years. It will be a day that will live with us for ever.'
Sculptor Graham Ibbeson previously created the statue of Eric Morecambe on the seafront at the resort from which the comedian took his name.
He said: 'Morecambe and Wise are the greatest double act to have ever graced British TV screens and both Eric and Ernie's families agree their spiritual home is Blackpool.
'Eric and Ernie's families have been involved right through the process and they love the statue which means an awful lot.
'I feel sure it will become a hugely popular and much-loved attraction in Blackpool for generations to come.'
There is also an individual statue of Wise at his home town of Morley in Leeds.
Published: 14 Oct 2016
What do you think?