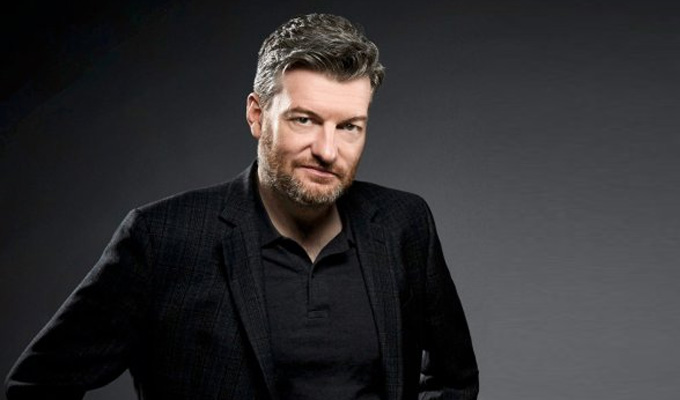 Why Black Mirror is like Fawlty Towers...
Even the grimmest episode of Black Mirror is based on the same principles as comedy writing, creator Charlie Brooker has said.
'It's the same model as comedy writing,' he explained. 'It's a worst case scenario compounded – that's the same as Fawlty Towers: a man tormented by a worst case scenario unfolding.'
Brooker was speaking at the London Film Festival as it hosted European premiere of three of the six darkly funny fables in the next series, which will launch on Netflix on October 21.
He said the move to the on-demand service opened up more opportunities than its previous home at Channel 4 but played down the suggestion of any rift with the terrestrial broadcaster.
'We have got a bigger canvas, it's more global,' he said. 'We don't have to cut for ad breaks or to fit into 43 minutes. They could be two hours or two minutes. Although two minutes would be shit.
'Anthology shows like this have been waiting for a service like Netflix. They've always struggled in the ratings with no recurring characters or cliffhangers. The only way [to build interest] would be to run lots of trailers and that would ruin the surprise.'
He said that when he first created Black Mirror, 'the trend was for five-season arcs for shows I love like Breaking Bad or Mad Men, but "what the fuck?" stories didn't have a place on TV.
'I just had the intention to create the frisson you get when you watch the Wicker Man, a particularly nasty Twilight Zone or Threads [the 1984 BBC nuclear war drama] - anything that provokes a reaction.'
His co-producer and business partner Annabel Jones added that they aimed to be 'playful' with Black Miller as well as provide thrills, and said her job was to provide characters to ground the 'ridiculous high-concept ideas' that Brooker came up with.
And Brooker added: We know we've got a good Black Mirror idea if I'm laughing and Annabel is going, "that's horrible".'
He said that with a longer season of six episodes – with a second run of six to come later – they were aiming for 'more variety' in the tone including a 90-minute take on the Scandi-noir detective theme, an outright thriller and a romance.
'We wanted not to always drag you into a pit of despair,' he said. 'Sometimes we'd kick you a hope biscuit on the way down.'
But he admitted: 'Sometimes we'd a drag you into a pit of despair and then piss on you.'
Despite the dystopian futures he often depicts, Brooker said: 'I'm quite optimistic about tech, actually. I'm quite a dweeb; I'm a gamer and early adopter of things like electric toothbrushes,' adding incredulously: 'I got a toothbrush the other day that required me to open an account!'
Channel 4 were outspoken when Brooker and Jones's company House Of Tomorrow took Black Mirror to Netflix, with chief creative officer Jay Hunt saying: 'We grew it from a dangerous idea to a brand that resonated globally. Of course it's disappointing that the first broadcast window in the UK is then sold to the highest bidder, ignoring the risk a publicly owned channel like 4 took backing it.'
Brooker acknowledged the words sounded ironic after the broadcaster poached Great British Bake Off from the BBC.
However, he insisted he hadn't simply sold the show off to the highest bidder, saying: 'Someone didn't wave a cheque and we went running away.' And he insisted: 'We still talk to Channel 4; we're still friends with them.'
Last night's discussion followed a screening of the new episode, Nosedive, in which an emotionally fragile woman becomes increasingly obsessed with achieving a high personality score on a global social networking app.
Brooker explained the script sprang from an idea he once pitched in Hollywood for 'a Brewster's Millions-style film in which someone of very high status is blackmailed into shredding their own reputation. It becomes a Charlie Sheen style situation. Once you've shat in front of a primary school ten times you become a cult sensation.'
But he said the story had moved on from that idea, because the process of repeated social transgressions became 'quite repetitive.'
Brooker co-wrote Nosedive with Parks and Recreation co-creator Michael Schur and star Rashida Jones, saying of the writing process: 'You all muck it. We did a lot of Skype sessions and low-tech conference calls. It was endless fucking yabbing. It's a pretty boring process, writing.'
Brooker said his initial story treatment was 'fairly detailed' but that director Joe Wright added 'a whole visual language not described in the script'.
Wright, whose credits include  Atonement and the Keira Knightley version of Pride and Prejudice, said he took the Black Mirror job after a bruising experience in Hollywood.
His $150million version of the Peter Pan movie was savaged by critics last year, with The Guardian saying it 'should never have been made'.
Without naming the film, Wright told the audience: 'I suffered a crushing humiliation over a giant film I  made for Warner Brother. The critics slated it and I'd taken it very personally. I really made this show to clean out the experiences I'd been through. And learning how to work with a smaller budget, that was good for me.'
Also screened last night were San Junipero, Brooker's take on 1980s coming-of-age dramas, and Shut Up And Dance, a thriller – and sometimes farce – about a teenager blackmailed online
Published: 7 Oct 2016
Recent News
What do you think?