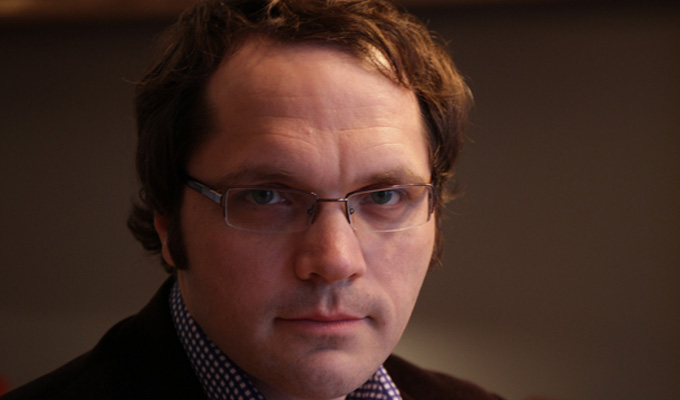 Revealed: Sky's Halloween shorts
Garth Merenghi creator Matthew Holness is returning to TV with a new horror-comedy short.
He is making a parody as part of Sky's new batch of scary shorts for Halloween, which also features films by Ross Noble and Jason Manford.
Jayde Adams, Steen Raskopoulos, Jamie Demetriou, Kiri Pritchard-McLean and Guz Khan also have instalments in the season, featuring comics like Richard Herring, Sara Pascoe, Nish Kumar, John Kearns, Liam Williams, Spencer Jones and Cariad Lloyd.
They will be available on demand from October 21 and screen on Sky Arts later in the year.
Holness writes and stars in the Hammer-Amicus films parody Smutch, once again playing a middle-aged writer, embittered and haunted by a 'ghost writer'. The film co-stars Horrible Histories' Jim Howick and Clive Merrison, who played Mark's father in Peep Show.
It's the first television comedy Holness has written since co-writing and starring with Richard Ayoade in Man to Man with Dean Learner on Channel 4 a decade ago, aside from another Sky short, 2012's The Snipist.
Noble makes his directorial debut with The Catchment, about a couple who move to be in the catchment area of a good school for their unborn children. But there's a catch. Noble also writes and stars in the film with Shauna McDonald, alongside Herring, Lloyd and Comedy Store Player Suki Webster.
An avowed horror movie fan, the comic has previously starred as a killer zombie clown in the 2012 film Stitches and plays a nurse in a haunted hospital in the forthcoming ghost film P.O.V.
Edinburgh Comedy Award best newcomer nominee Adams takes the title role in Bloody Tracy, playing a ghost haunting a supermarket, with Jones, Mark Davidson, Joe Davies and Gabby Best co-starring.
Raskopoulos stars with Pascoe in his short, Scare BnB, as a couple who rent out their haunted house to horror fans looking for thrills. But when a ghost sceptic (Kearns) arrives determined not to be spooked and threatening their five-star rating, it's time to call in the resident ghosts, played by Kumar and Susie Youssef.
In Oh God, described as a 'Kaufman-esque take' on the classic sci-fi-horror premise of body mutation, Demetriou plays a 'normal lad in his mid-to-late 20s gradually but unequivocally turning into a car. The short also his sister Natasha alongside Williams, Ellie White, Ben Ashenden and Arnab Chanda.
Pritchard-McLean's film, I've Got Your Number, focuses on Kiri, who responds to texts mistakenly sent to her for a laugh, chatting to a complete stranger several times a day. But what started as a bit of fun slowly takes a very sinister turn. The film co-stars Jordan Brookes and Paul G Raymond.
The stand-up and non-performing member of macabre sketch group Gein's Family Giftshop, Pritchard-McLean's interest in the dark includes co-hosting a podcast on serial killers with Rachel Fairburn.
Frightbusters features Khan and Sunil Patel as stoned conspiracy theorists Bongs and Ali, who appear on a YouTube show to reveal their encounters with the paranormal and uncover the secret white demonic elite ruling the world. Co-starring The Thick of It's Alex MacQueen and Totally Tom's Tom Palmer, the film follows Khan's roles in Channel 5's Borderline and Dave's new fantasy sitcom Zapped!
Finally, as Chortle reported earlier this month, Manford has written and stars in That's The Spirit, alongside Rebecca Callard as his wife. Their characters catch their teenage children, Imogen Gurney and Brenock O'Connor, using a Ouija board to contact the dead.
Sky's head of comedy Jon Mountague said: 'Sky Comedy is literally thrilled (and a little bit frightened) to be working with such scarily talented comic voices on our Halloween/horror season on demand. 
'To attract talent as diverse as Jason Manford to Guz Kahn, Ross Noble to Kiri Pritchard-McLean, and the legendary Matt Holness to hotshots Jayde Adams, Jamie Demetriou and Steen Raskopoulos is a ringing endorsement for our comedy shorts.
'They have proved to be such a hit with customers, we're giving them more. Plenty of treats, and one or two tricks.'
New production company Guilty Party Pictures have made Holness's, Adams's and Demetriou's films. Hoff The Record's Me & You Productions have made Raskopoulos's and Khan's, while Pritchard-McLean's is by Tiger Aspect, whose credits include Mr Bean, Benidorm and Drunk History.
The Halloween season follows similar Christmas and Irish-themed strands on Sky Arts.
- by Jay Richardson
Published: 28 Sep 2016
What do you think?