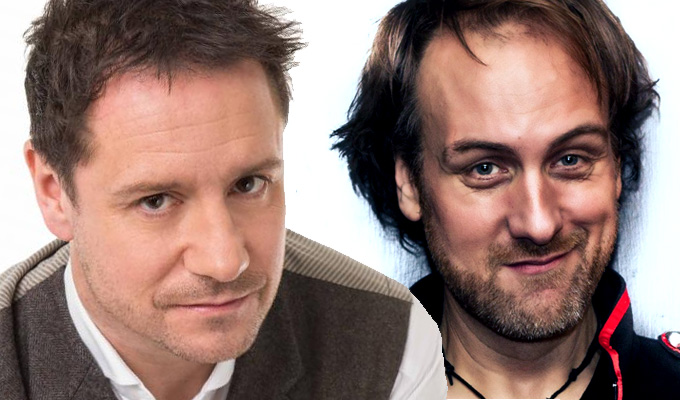 Now Show axes Jon Holmes and Mitch Benn
Jon Holmes and Mitch Benn have been axed from Radio 4's Now Show – in the name of diversity.
Both have been long-standing stalwarts of the 18-year-old topical show, but will not be returning when it returns to air this autumn.
Holmes, who also hosts a daily show on TalkRadio, tweeted yesterday: 'Sad to announce I've been axed from @BBCNowShow as "we want to recast with more women and diversity" Tsk. And I didn't even punch a producer.'
He later added: 'I'm calling it The Night of the Short Knives' – a reference to hosts Steve Punt and Hugh Dennis's regular jibes about his diminutive stature.
Fans slammed the BBC for its decision.
Julie Durrans tweeted: 'Nooooo, you were the best bit, plus surely you don't even take up that much space?
Comic Tom Price said it was a 'ludicrous decision. I'm livid for you'.
Miles Hunt, the frontman of The Wonder Stuff, told him: 'That's really shitty news, sorry to hear that. Downhill from here on in then (for them, not you).'
And actor Ian James Seale came up with a possible solution, asking Holmes: 'Have you seen the film Tootsie?'
Benn once had a monopoly on the show's musical slots, but has recently been sharing them with other comedians including Vikki Stone, Pippa Evans and Adam Kay.
A spokesman for The Now Show said: 'We'd like to thank both Jon Holmes and Mitch Benn for their excellent and memorable contributions to The Now Show over the past years, but our comedy shows are constantly evolving and it is time to create opportunities for new regulars as the show returns this autumn. 
'We haven't decided on the new talent yet but any decisions will be based on merit and made with the show in mind.'
That evolution has included the decision to drop Laura Shavin was dropped as the main female voice in 2015 in favour of rotating roster of performers. 
The show has also recently been including interviews with expert commentators such as Robert Peston alongside the comedy. It was also the first Radio 4 comedy series to be made available on podcast, beginning in 2006.
Radio 4's 'service licence', issued by the BBC's trustees and outlining its aims, says the station 'should reflect the diversity of the UK.'
Published: 27 Sep 2016