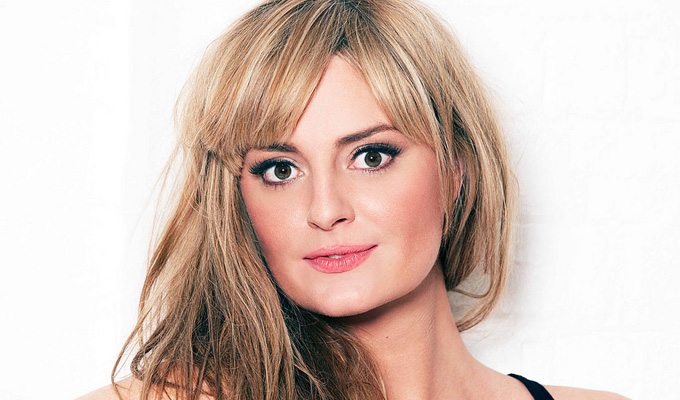 Morgana's Agency: Who's in and who's out
Stephen Merchant, Karl Pilkington and Nancy dell'Olio have all narrowly avoided being mocked in Morgana Robinson's new impressions show.
The comedian will unveil a host of new celebrity caricatures in her new BBC Two series The Agency, including Joanna Lumley, Mel & Sue, Miranda Hart and Gregg Wallace.
But she admits a few possible targets fell by the wayside.
Of Merchant, she says her impersonation turned out to be 'awful, embarrassing, terrible,' while producer Jack Bayles said 'we were quite close' to fellow Ricky Gervais collaborator Pilkington, but decided they had enough characters.
'We started getting Karl Pilkington, but we were unsure, and at some point we have to go, "OK, we've got to concentrate on these",' he said. 'Especially because ewe wanted to spend more time with the characters, you can't just go, "Accent, wig, OK that'll do – make a funny sketch."
'There are seven or eight new characters in The Agency, and that's a ridiculous amount of work for Morgana. So yes, there are some that didn't work – that's not because she can't do them, but because we've got enough.'
Robinson said she 'loved' doing Neil Oliver from Coast, but he also failed to make the final show, because of fears he was not famous enough. 'It's the name test,' she said at a screening of the new series. 'Have you heard of Neil Oliver?'
She added that 'I really wanted to do Nancy dDell'Olio', but Bayle vetoed the idea. 'It felt like something that existed before somewhere else on other shows,' he said. 'It didn't feel like we could own it.' But he conceded: 'She is interestingly nuts.'
The Agency is set around the office and clients of showbiz agent Vincent Mann, played by Cavan Clerkin, with Robinson playing all the celebrities.
Hart is portrayed as wanting to be taken seriously as an actress, although her pratfalls and comic persona always ruin it; while Mel and Sue are shown as living together, to the chagrin of Mel's husband, who also shares the house.
The series also revives Robinson's established take-offs of Natalie Cassidy, Danny Dyer, Russell Brand and Fearne Cotton.
Robinson said she didn't know if any of her targets had seen her impersonations, but hoped they wouldn't take offence. 'I think all of them are quite lovely,' she said of her characters. 'It's quite a lovely show I get a bit teary when I watch it.
But she conceded: 'I think we have made Sue into a bit of a monster. But because it's so far-fetched hopefully she'll get it. She's got a good sense of humour.'
Of getting into character, she said 'the boys are generally the hardest'.
'Physically I have to strap the girls down,' she said grabbing her boobs. 'That's a pain in the arse in itself because they don't like behaving.
'Then I've got to wear boys clothes and squeeze my fat lady arse into some skinny boy jeans. It's all extremely uncomfortable. I have to walk like I'm skeletally not made to, like I've played football for 30 years.
'The day after, all these weird muscles I didn't even know existed really hurt because I'm walking differently. And I generally lose my voice. Greg Wallace, he's a pain in the arse…'
She admitted that sometimes the stress got to her, saying: 'Once a week I'd say "I need two minutes" and go out on the lawn and then he'd come out: "Are you all right?" and give me a little hug and say: "It's fine, isn't it?"'
There was also logistical difficulties playing both Mel and Sue in the same scenes. 'You have to learn it like a song because of the timing,' she said.
'It's like a Jigsaw to film,' added Bayles, who also produces Catastrophe, 'It's a tricky one to construct.'
Robinson – who instinctively dropped in and out of impressions while speaking about the show –credited Bayles as being the brains behind it.
'He's well clever this one,' she said. 'I'm the puppet, I'm the performing monkey. He comes up with all the cerebral stuff…'
In return, Bayles said: 'She works so hard to make her impressions more like three-dimensional characters. When we thought about an impressions show, we thought about how do you do it differently, how do you do something we've seen a lot of in the past?
'What she can do is bring character to impressions that not a lot of people could do. That gave rise to the idea we could give them longer threads, more narrative. That's what we've done where we felt more confident and other cases we've gone a bit more sketchy, when we're still trying to find the characters.
'But it's fallen out of her incredible impressions and thinking how we do that a bit differently. She'll find weird things in people you don't anticipate It all starts, essentially, with "What about this version of this person?" and hopefully creating a new version that's not like a mimic or a straight impersonation.'
Of the agent character Vincent Mann, Morgana said it was partially based on her own manager John Noel, whom she shares with Russell Brand, and half on the late Addison Cresswell, the legendarily colourful founder of the Off The Kerb comedy agency that represents the likes of Michael McIntyre, Jonathan Ross and Jack Dee.
• The Agency starts on BBC Two on September 26
.
Published: 14 Sep 2016
What do you think?