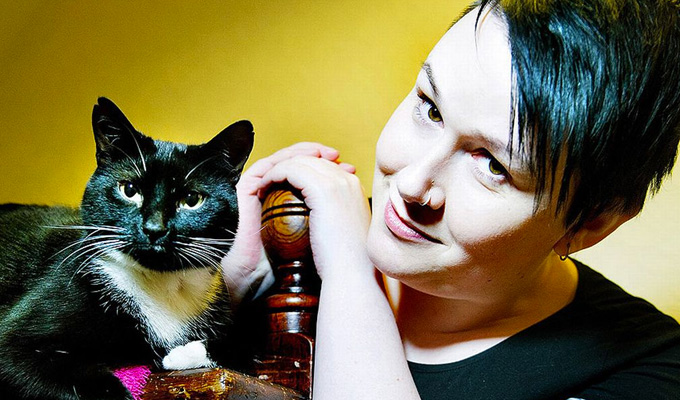 'I can't book you because you're a woman'
Stand-up Bethany Black has revealed how she was turned down for a comedy gig because they had 'too many women' on the bill.
She made public an email received from a promoter which said: 'Bethany, you sound fab but can you believe "too many women on the bills" this time. But will definitely book you for the future.'
Black declined to name and shame the club, which is in an area, but the email was sent by a woman called Claire
The comic, who has appeared in Doctor Who and C4 drama Cucumber, posted her response on social media.
In it, she said: 'I've not replied until now because I've been trying to find the right words.
'No, I do not believe too many women on the bills as an excuse, because it's not 1964 and this isn't an episode of Mad Men. Women isn't a type of comedy, and this type of misogyny is what's leading to the homogeneity that's destroying our circuit.
'I'm disgusted that you would say something like this, even if you were "just passing it on from a venue" which just makes you a facilitator if that's the case.
'I'm shocked and appalled that anyone would even think that this is an appropriate excuse to use in 2016, let alone email someone to tell them this. There are no other women comedians whose material crosses over with mine.
'If this is genuinely something you believe is acceptable then I would rather not work for you.'
The practice of not booking more than one woman on the bill is still widespread, although few promoters would openly admit to having any such policy.
Black admitted: 'I've not had one of these emails for years, it seemed almost retro', and said that the booker's response made her angry for days.
In 2014, comedian Jenny Collier made public an email cancelling her booking for a gig because the venue feared there were 'too many women on the bill'. It subsequently turned out this was a gig booked by Mirth Control, whose boss Geoff Whiting said: 'I'm pro-female comedians.'
After Black's incident, other female comics posted that they had similar experiences, with Janey Godley saying: "Thats a normal week for me.'
And Debra-Jane Appelby said she 'once got pulled because a promoter realised they already had a "novelty act" on their bill'.
So here's an email I received when applying for a gig, and here's my considered response to that email. pic.twitter.com/G5cnS2PGsK

— Bethany Black (@BeffernieBlack) September 8, 2016
Published: 10 Sep 2016
What do you think?