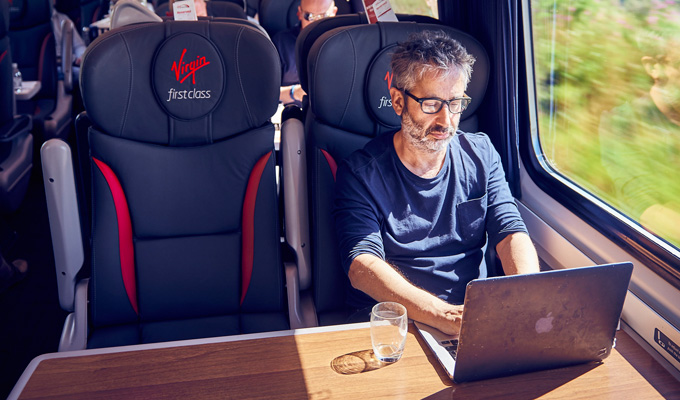 Baddiel pens kids' story for Virgin Trains
David Baddiel has been commissioned to write a children's story for Virgin Trains.
The comedian and author has penned The Girl Who Had Never Been on a Train, which will be available on the services' on-board entertainment system from tomorrow.
It tells of 11-year-old Chrissie who loves trains despite never having been on one – until she goes with her Grandpa Henry from Scotland t to London for an operation.
Baddiel's story, illustrated by Jim Field, was inspired by his observations travelling on the trains, having conversations with the passengers and staff as the company's official 'summer author'.
Baddiel said: 'I've always loved trains. They may be my favourite form of transport. I also think trains are inspirational for the imagination, especially on a long journey like London to Edinburgh. In a way, I'd like a private train to stay on every day, as I think I write better on them than at home.
'As is usual in my stories, something a bit weird and magical happens early on in the journey, and Chrissie gets taken somewhere she really didn't expect to go - although it all takes place on the train. Rather like the writing of it…'
The book, which follows his previous children's novels The Parent Agency and The Person Controller, will be available from tomorrow.
Patrick McCall, co-chairman of Virgin Trains, said: 'We see and hear so many wonderful conversations and stories on board our trains and to bring this inspiration to life with David has been an exciting experience for us all.'
Last month Virgin Trains was embroiled in a row with Jeremy Corbyn. after the Labour leader said he was forced to sit on the floor of a 'ram-packed' train from London to Newcastle.
Published: 6 Sep 2016
What do you think?