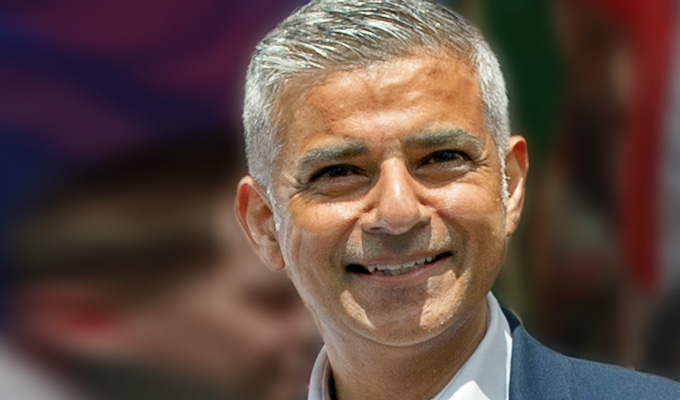 Sadiq Khan: 'I used to do stand-up'
London mayor Sadiq Khan has told of how he gave up stand-up comedy to run for the capital's top office.
The politician told jokes as part of the Stand Up For Labour benefit gigs, which he said was 'a childhood dream come true' – but declined to follow that ambition.
He told Time Out: 'I used to do stand-up, actually. I had a ten-minute routine I did for a thing called Stand Up for Labour, where we'd go around different seats and use comedy to raise money. I stopped doing this routine when I started running for mayor.'
Khan said he made that decision as he considered major a serious job, making a distinction between himself and predecessor Boris Johnson,
He said: "One of my concerns when I was running for mayor was that Londoners had the impression that the mayor can't do very much – that his job was to act the buffoon, walk the red carpet and tell a few jokes. Although I can do the last one, by the way.'
Khan appeared at a gig in his Tooting constituency in 2013, when he was still an MP.
At the time he said: "I have delivered speeches to audiences big and small all over the world but have never been as nervous as I was before going on stage to be a stand-up comic.
'The crowds were very generous in laughing at my jokes - although I think I will stick to my day job.'
After hearing Khan's routine, Arthur Smith, who was also on the bill, suggested he could be a 'good club-level comedian one day'.
One of his gags, which he also told to Alastair Campbell in an interview for GQ magazine earlier this year, went: 'I went to St George's, my local hospital, and I asked three surgeons, "Who are the easiest people to operate on?" The first surgeon said librarians, "Because you slice them open and all the parts are perfectly ordered." The second one said, "No. Accountants are the easiest, because you slice them open and all their parts are numbered." But the third one said, "No. It's politicians. We had Jeremy Hunt in here last year. I sliced him open and he was gutless, spineless and his head and arse were totally interchangeable."'
Last year, Tony Blair admitted he attempted stand-up while a a student at Oxford University, telling political comic Matt Forde that his performances were 'really dire' and a 'rich vein of embarrassment'.
Here's Khan's Time Out interview.
Published: 5 Sep 2016
What do you think?