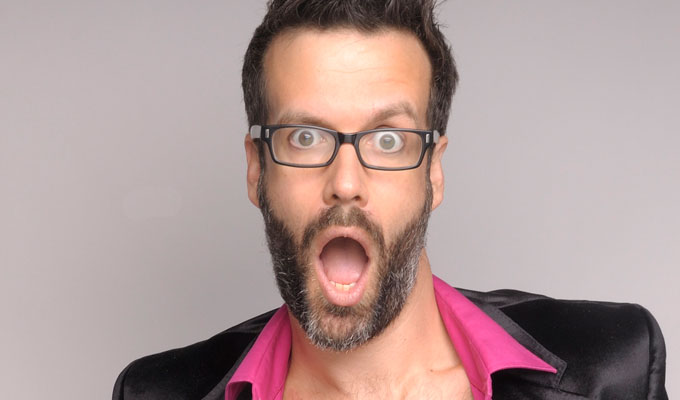 Marcus Brigstocke takes on the gadgets
Committed Luddite Marcus Brigstocke is setting out to prove that old-fashioned know-how can beat the latest gadgets in a new entertainment show for the Dave TV channel.
In Joy of Techs the comedian will be pitched against technophile Alexis Conran – The Real Hustle conman and reigning Celebrity Masterchef champion – in a number of scenarios.
The pair are friends in real life and will try to persuade each other that their approach is the right one.
Brigstocke said: 'Even if we needed half the so-called "life-hack" crap they produce, most of it is so complicated it rarely works. You're left with some gormless consumption slave holding a widget aloft trying to find a signal. Nonsense!
'I'll tell you a good bit of tech - the zip. That works. The match. Brilliant.
'Now poor Alex is obsessed with this stuff and in the Joy of Techs I will take great pleasure in demonstrating to him that it's a waste of time and money. It's going to be fun. I will be setting the timer on my VHS recorder for this series... If I can find the remote control thing.'
Conran added: 'Technology is the way forward, and if anything has a button on it, I'm in! I'm not worried about our friendship suffering on this show, as we can both be stubborn and argumentative, but I do worry about killing ourselves trying to prove our point!'
Ten half-hour episodes have been commissioned from Blink Films and will air next year.
Iain Coyle, UKTV's senior commissioning editor, said: 'Alexis and Marcus have a real friendship - warm, funny and encompassing a competitiveness bordering on the unhealthy.
'It's a brilliantly simple format that pushes all those buttons, and you get to see solar powered cars and flying bikes too.'
Dan Chambers, executive producer for Blink Films added: 'Marcus and Alexis come with a ready-made chemistry and a competitive streak that is hugely entertaining to watch.
'Whether they're turning a daily commute into an episode of Wacky Races, destroying each other's tents on a camping weekend or competing to win the heart of a robot girlfriend, the real joy is going to be in watching their friendship being pushed to its limits every week – along with the tech they'll be testing.'
Published: 5 Sep 2016
Recent News
What do you think?