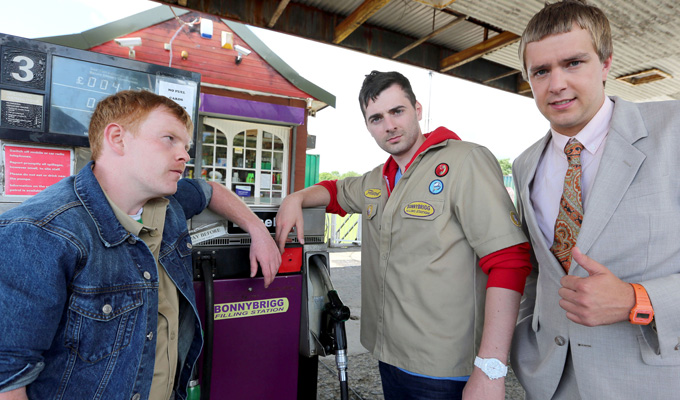 Revealed: New batch of BBC Comedy Feeds
The BBC is to announce a new batch of Comedy Feeds, featuring the likes of Ian Stirling, Tim Renkow and Guz Khan.
All but one of the six shorts is a narrative comedy, to tie in with the Corporation's Landmark Sitcom season starting next month.
The aim is to develop talent for possible longer-form shows on BBC Three, and the strand, now in its fourth year, has previously spawned Josh, Flat TV, People Just Do Nothing and Dane Baptiste's Sunny D.
BBC comedy chief Shane Allen said: 'BBC Three's Comedy Feeds have kick-started so many careers for UK comedy talent on and off screen. This year's selection, during such a celebratory year for comedy, shows how vibrant and diverse BBC comedy is and how BBC Three is the place to nurture grass roots talent.'
And BBC Three controller Damian Kavanagh said: 'I expect great things' from the talent involved.
Chortle can reveal that the six shorts, which will be available via iPlayer from September 1, are:
A Brief History of Tim
British-based American comic Tim Renkow co-writes and stars in this short about how people judge him for his cerebral palsy. 'But usually they judge him wrongly,' the programme blurb says. 'Because what they don't realise is that inside that severely disabled, fragile body is a bit of an asshole.' But while he's causing mischief, he takes his eye of its bigger prizes: the job, the girl and the visa.
His mum is played by The Sopranos' Lorraine Bracco and Renkow wrote the script with fellow comic and poet Stu Richards for Googlebox TV.  The executive producer is Mat Steiner and the director is Jamie Adams.  It was commissioned by Tilusha Ghelani. 
Fail
Fail is a sitcom of social awkwardness that follows the unfortunate adventures of the neurotic 'eager to please' twentysomething Paul, played by Will Merrick, who starred as Steve Davis in this year's snooker comedy-drama The Rack Pack.
Ruby Thomas, who is currently in her own sketch show on the Edinburgh Fringe, plays his girlfriend, Claire, with Vincent Franklin, who played Stewart Pearson in The Thick of It, and Julia Deakin, landlady Marsha in Spaced as his parents.
The script was written by Tom Melia, based on his web comedy series The Art of Awkward Conversation, and produced by The Comedy Unit. Directed by Elliot Hegarty, produced by Gavin Smith, and commissioned by Gregor Sharp.
Limbo
A comedy about a gang of self-centred twentysomethings who work as tutors, as they have no real idea what to do with their lives, and struggle to get through lessons without vomiting, swearing and exposing their own profound ignorance.
Created by Siblings writers Lucien Young and Joe Parham, Limbo stars Ellie White, Bekka Bowling, Alastair Roberts and Sanjeev Bhaskar. 
The executive producer is Helen Williams, producer Tom Jordan for Hat Trick, the director is Tom George, and commissioner Gregor Sharp.
Man Like Mobeen
Guz Khan's character, already seen in online shorts, is a man trying to go straight, working in a care home and looking after his two sisters, although his old life of crime is always pulling him back.  
Khan wrote the script with Andy Milligan, who wrote the Dave Sitcom Sitcom Undercover as well as jokes for Ant & Dec.
The commission follows the success of a one-off Khan about Ramadan as part of an iPlayer series from Muslim comedians last year.
Man Like Mobeen's executive producer is Ben Cavey, the director is Oliver Parsons and it was commissioned from Cave Bear productions by Kristian Smith.
Pumped
Iain Stirling stars in Pumped, set around a remote petrol station in an odd Scottish town, alongside James Allenby-Kirk, best known as Jeff the Chef in Gary: Tank Commander and Kadiff Kirwan from Chewing Gum.
The blurb from programme-makers BBC Studios says: 'Marooned by laziness, poor decisions and unhealthy mutual love, Pumped follows three idiots who used to be the kings of the village as they wrestle with what ifs, unfulfilled potential and their rapidly plummeting social status.'
Written by Stewart Thomson, it is directed by Adam Miller and produced by Keith Martin. Steven Canny is executive producer and it was commissioned by Shane Allen.
The JPD3 Show
A fast-paced sketch show from the creators and stars of the online hit Mandem On The Wall: Joivan Wade, Percelle Ascott and Dee Kartier.
The show will feature music video parodies, reality spoofs and one-off sketches about the world the boys inhabit. 
Directed by Ben Palmer, the executive producers are Neil Webster and Ben Palmer for Happy Tramp and the show was commissioned by Tilusha Ghelani.
Published: 12 Aug 2016
What do you think?