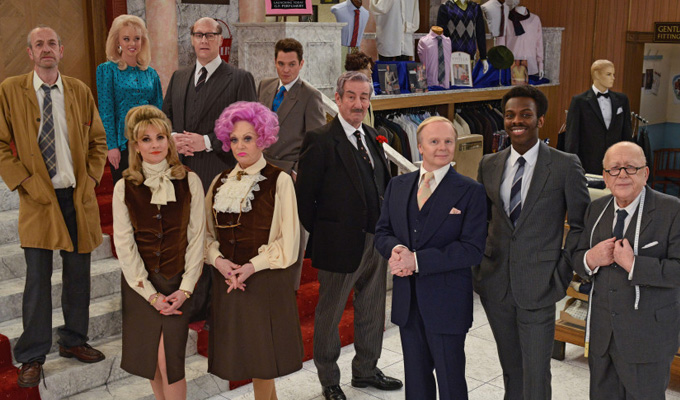 Meet the new Are You Being Served? cast
Here's the first picture of the new cast of Are You Being Served?
The sitcom is being brought back for a one-off special next month as part of the BBC's Landmark Sitcom series.
Written by Benidorm creator Derren Litten, the reboot is set in 1988 with Young Mr Grace determined to drag Grace Brothers into the late Eighties, even though all his staff 'seem to be stuck in another era'.
Comedy commissioner Shane Allen has said: 'The Are You Being Served? special is a riot of a script from Derren and has attracted a real comedy pedigree cast to pay homage to this glorious and much-loved show.'
Litten added: 'Writing a new episode of Are You Being Served? has been the most fun I have ever had as a professional writer. We have an amazing cast, a brilliant producer and a great director, it was just too exciting an opportunity to pass up; and I am unanimous in that.'
The show, created and written by Jeremy Lloyd and David Croft, originally ran on BBC One from 1972 until 1985, and became one of the UK's most enduring sitcom exports, especially popular in Australia and the US.
Meet the cast
1. Arthur Smith as Mr Harman. The grumpy uncle of alternative comedy takes over the role of the truculent maintenance man from Arthur English, who died in 1995.
2. Jorgie Porter as Miss Croft. The former Hollyoaks actress is familiar to reality TV show fans, appearing on Dancing On Ice in in 2012 and 2014 and I'm a Celebrity...Get Me Out of Here! in 2015. A new character, named as a tribute to series co-creator David Croft.
3. Justin Edwards as Mr Rumbold. Edwards is best known on the live circuit for his drunk kids' entertainer character Jeremy Lion, and on TV for playing the nervously blinking minister Ben Swain on The Thick Of It. The bumbling jug-eared floor manager was originally played by Nicholas Smith, who died in December last year.
4. Matthew Horne as Mr Grace, the grandson of the store's owner Young Mr Grace (originally played by Harold Bennett, who died in 1981). Gavin & Stacey star Horne's TV comedy credits include The Catherine Tate Show, Horne and Corden and Bad Education.
5. John Challis, best known as Boycie from Only Fools And Horses, as Captain Peacock, the haughty floorwalker made famous by Frank Thornton, who died in 2013, aged 92.
6. Niky Wardley as Miss Brahms. One of Wardley's best-known parts to date was in The Catherine Tate Show as stroppy schoolgirl Lauren Cooper's best friend Lisa Jackson. The role of junior sales assistant on the womenswear department was originally played by future EastEnders legend Wendy Richard, who died in 2009.
7. Sherrie Hewson as Mrs Slocombe. Hewson played Maureen Webster in Coronation Street before joining Loose Women in 2013 – a show she leaves next month. She also stars in Litten's Benidorm as hotel manager Joyce Temple-Savage. Known for her shocking-coloured hair and constant references to her 'pussy', the head of the ladies' department was originally played by Mollie Sugden, who died in 2009.
8. Jason Watkins as Mr Humphies. It's the second retail role for Watkins, having played store and subsequently area manager Gavin Strong in Sky 1's Trollied. The super-camp menswear assistant, known for his catchphrase 'I'm free!' made a star of John Inman, who died in 2007.
9. Kayode Ewumi as Mr Conway, a new member of staff who's set to 'help shake things up'
10. Roy Barraclough as Mr Grainger. The 81-year-old was the other half of the Cissie and Ada double act with Les Dawson, although for a generation he is better known for his 12-year run as Rovers Return landlord Alec Gilroy in Corrie. He plays the senior sales assistant, prone to dozing off at his station, originally played by Arthur Brough, who died in 1978.
And this is the original team: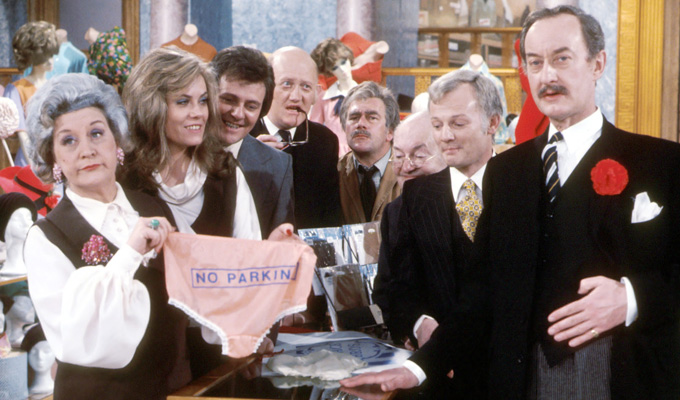 Published:
8 Aug 2016
What do you think?