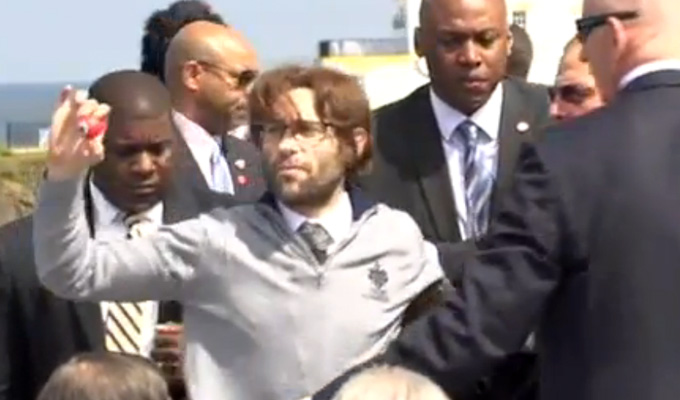 Comedians disrupt Donald Trump visit
Comedians Lee Nelson and Janey Godley have disrupted Donald Trump's visit to Scotland today.
Nelson, who has a reputation for high-profile pranks, was led away by two burly security men as he tried to interrupted the Presidential hopeful's speech on ITV News.
And Godley was told by police not to brandish a banner saying 'Trump is a c**t' as he flew in to his Turnberry resort.
Trump was trying to make a speech about Britain's decision to leave the EU when Nelson's creator Simon Brodkin appeared holding two golf balls emblazoned with swastikas.
He he told the assembled reporters: 'The new balls are available from the clubhouse as part of a new Trump Turnberry range. I forgot to hand them out before, I'm very sorry Mr Trump, and thank you, I apologise.'
Trump responded by saying: 'Get him out!' while a man in the crowd was heard to say: 'Go and get a job and a haircut' – although Brodkin was wearing a wig.
Brokin's previous stunts include gatecrashing Kanye West's set at Glastonbury and showering Fifa president Sepp Blatter with fake money.
Meanwhile, Godley staged her own blunt reception committee for Trump:

Me explaining who #trump is to the cops note the trump helicopter in background of #Turnberry #scotland pic.twitter.com/mFXz7rWm71

— Janey Godley (@JaneyGodley) June 24, 2016
Published: 24 Jun 2016
What do you think?