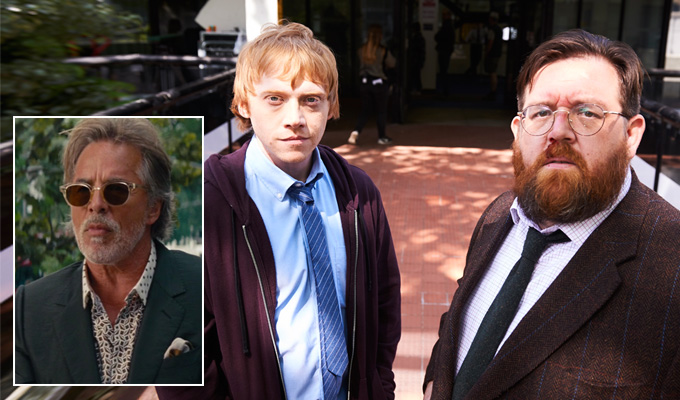 Don Johnson joins Rupert Grint in Sick Note
Miami Vice star Don Johnson has joined Rupert Grint and Nick Frost in the Sky Atlantic comedy Sick Note.
Chortle last week reported how the Harry Potter and Mr Selfridge stars were filming the series in London.
Now Sky has officially released details of the show, with further details of the plot – which revolves around a cancer diagnosis.
Grint plays Daniel Glass, a compulsive liar, who's stuck in a failing relationship and a dead-end job, where he is under the thumb of his boss Kenny West, to be played by Johnson.
But when he is diagnosed with oesophageal cancer, everyone starts to treat him better. So when he later finds out he was misdiagnosed by incompetent oncologist (Frost), he decides to keep up the pretence of being ill, aided by the doctor.
Also in the cast are Daniel Rigby and Camilla Beeput, whose credits include Peep Show, Bull and Superbob.
The series, which is written by James Serafinowicz and Nat Saunders and directed by Upstart Crow's Matt Lipsey, is set to air in early 2017.
Jo Sargent, managing director at programme-makers King Bert said: 'Nat and James have done a brilliant job creating an enticing and funny hook, and I look forward to our stellar cast bringing their hilarious scripts to life.'

Comedy Bang Bang's Scott Aukerman has worked with Serafinowicz and Saunders on developing the show, which is produced by Walliams & Friend's
Sarah Fraser.
Published: 31 May 2016
What do you think?