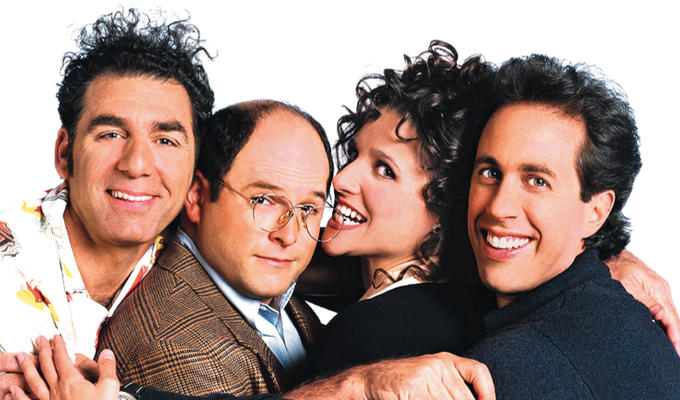 How the Seinfeld theme was made
The best comedy on demand.
Jonathan Wolff
This is an interesting old clip of composer Jonathan Wolff on E! News, describing how he put together the most famous bass line in comedy, inspired by the rhythms of Jerry Seinfeld's stand-up, and using his voice as a key instrument:

Radio Active
The team behind the 1980s comedy – Angus Deayton, Michael Fenton Stevens, Helen Atkinson-Wood and Philip Pope – are reuniting for this year's Edinburgh Fringe. Without, of course, Geoffrey Perkins, who would go on to be the BBC's head of comedy, but tragically died in 2008 at just 55. Radio 4 Extra is currently repeating the show, and there are five episodes from series four and five now available on iPlayer
Tears Of A Clown
Also being repeated on Radio 4 at 8pm tonight is Robin Ince's 2014 documentary Tears Of A Clown, looking at the image of the depressed comedian and wondering if there is any truth in it. 'While the lives of Kenneth Williams, Tony Hancock and Spike Milligan are raked over with new books and documentaries appearing on a yearly basis, hundreds of comedians seemingly live and perform without facing anxiety that reaches clinical levels,' he says. 'Is the image of the sad comedian a comfort for an audience, "they made us all laugh and brought so much joy, but don't worry, they were racked with existential agony for the rest of their lives"?' It, too, is on iPlayer.
Channel 4 Comedy Gala
This year's annual parade of high-grossing - and potentially future high-grossing - stand-ups comes to Channel 4 tomorrow, raising money for Great Ormond Street Children's Hospital. White you wait, last year's show, featuring Jack Dee, Kevin Bridges, Sean Lock and Katherine Ryan is available on demand as three 'best of' episodes. The 2010 extravaganza that kicked off the series is also available in its entirety, hosted by Alan Carr and Jonathan Ross with stand-up sets by Michael McIntyre and Lee Evans among many others. Watch here.
Published: 28 May 2016
What do you think?