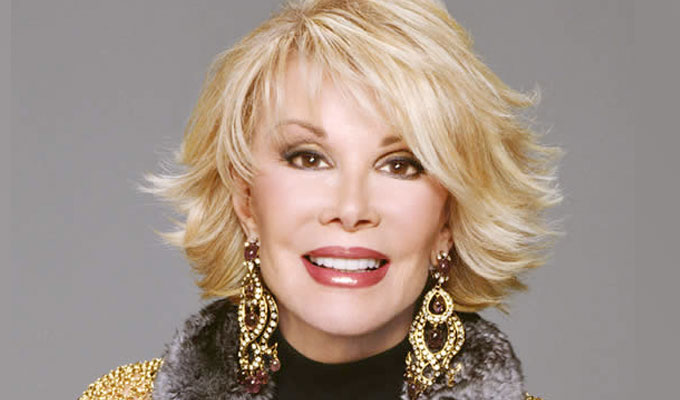 Joan Rivers' family settle lawsuit
Joan Rivers' daughter Melissa has settled the lawsuit with the New York clinic where the comedian went into cardiac arrest.
The terms of the deal with Yorkville Endoscopy have remained secret, but in a statement Melissa said: 'Those culpable for her death have accepted responsibility for their actions quickly and without equivocation.'
Rivers died on September 4, 2014, at the age of 81, days after visiting the Manhattan clinic for a procedure to investigate complaints that her voice was changing and to determine what was causing her stomach reflux.
During the procedure, she had a Spasm of the vocal cords that makes it difficult to breathe, causing her heart and brain to shut down.
Melissa's medical malpractice lawsuit claimed the clinic  performed procedures without her mother's consent and that certain medics were not authorised to be there. 
Court papers allege doctors in the treatment room failed to notice the comedian's failing vital signs quick enough, with the clinic's medical director Dr. Lawrence Cohen accused of taking photos of Rivers on his phone saying that the comedian would 'like to see these in the recovery area'.
In her statement, Melissa said: 'Moving forward, my focus will be to ensure that no one ever has to go through what my mother, Cooper and I went through and I will work towards ensuring higher safety standards in out-patient surgical clinics.'
Her lawyers Ben Rubinowitz and Jeff Bloom also released a statement saying: 'While we know that no amount of money will compensate Melissa Rivers and her son Cooper for their loss, our firm is pleased that the case has been resolved. 
'We worked tirelessly to ensure that appropriate compensation was paid on behalf of those responsible for Joan Rivers' death. In keeping with Melissa's wishes, we will continue to work with the Rivers' family to ensure that appropriate safeguards and higher safety standards are put into effect in all ambulatory surgery centres to protect the health, safety and well-being of all patients and to prevent such a tragedy from ever happening again.
'We have agreed to keep the terms of the settlement confidential to make certain that the focus of this horrific incident remains on improved patient care and the legacy of Joan Rivers.'
A spokesperson for Yorkville Endoscopy told ABC News. 'Today, the parties agreed to settle this case to avoid protracted litigation. We remain committed to providing quality, compassionate healthcare services that meet the needs of our patients, their families and the community.'
Published: 13 May 2016
What do you think?