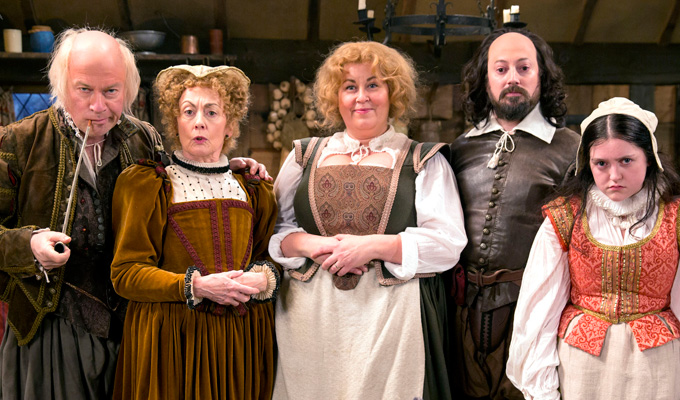 Ben Elton takes a pop at Ricky Gervais
Ben Elton has used his new Shakespearean sitcom to take a swipe Ricky Gervais.
The character of Will Kemp – played by comedian Spencer Jones, below – speaks in Gervais's familiar rhythms, and boasts about making it big overseas.
Nor is it the only contemporary reference in the BBC Two comedy, which stars David Mitchell as the Bard. In one scene he jokes about the upper classes rogering a farmyard animal at university to get ahead – a clear reference to the claims that David Cameron put his penis in a dead pig's head as an initiation rite to an undergraduate drinking club.
BBC executive producer Gareth Edwards insisted the Gervais swipe was 'a sort of affectionate nod – I think.'
And Lisa Tarbuck, who plays Shakespeare's wife Anne Hathaway, said: 'I think he'll be chuffed to bits.'
Kemp was a real-life comic actor who was in the Lord Chamberlain's Men alongside Shakespeare, and once danced the 80 miles from Norwich to London for a bet.
Edwards, who called Jones's performance 'hilarious', also suggested there was a genuine reason for including the Gervais spoof.
'We are trying to draw parallels between then and now,' he said. 'And Kemp was the absolute leading clown of the day - a huge cult figure that people would flock to from miles around. He did a jig all the way through Britain, sort of like a stadium gig now, and what we were trying to say is that every era has its maverick comedy guy who's slightly ahead of his time and is following the beat of a slightly different drum... and probably in 400 years time there will be somebody else who's wearing that Ricky Gervais mantle.'
'I also like the way that America for us now, Hollywood now, was Italy then... and that there's always somewhere overseas that is doing a bit better and carries that bit more cultural weight.'
Edwards also admitted he had concerns about the farmyard animal line, which Elton suggested only on the afternoon before the recording.
'I'll be honest, I initially thought it was too contemporary,' he said, explaining that Upstart Crow 'is not really a satire - even though there's a very strong satirical element – it has also got to be a world that exists in its own right.
'Two things completely changed my point of view. One was that it's not a specific reference to the news story; it's more of a reference just to a very peculiarly British tradition that does go back centuries. So this is the sort of weirdness that has been handed down from decade to decade.
'The other thing that changed my mind was that it got a massive laugh. So I thought, "We'll probably keep that, then."
Mitchell added that in a second take they replaced it with the original line 'and the audience were so sad'.
'They really laughed at the first one and then we did this version and they went "hmmm",' he said . 'So that's it then, they've decided. '
He, too, insisted: 'I that news story hadn't broken, that line would still work. So that's it's justification as well. So it's sort of an added laugh if you join in imagining the Prime Minister violating meat. But it would work, even if you hadn't been aware of that.'
Published: 3 May 2016
Recent News
What do you think?