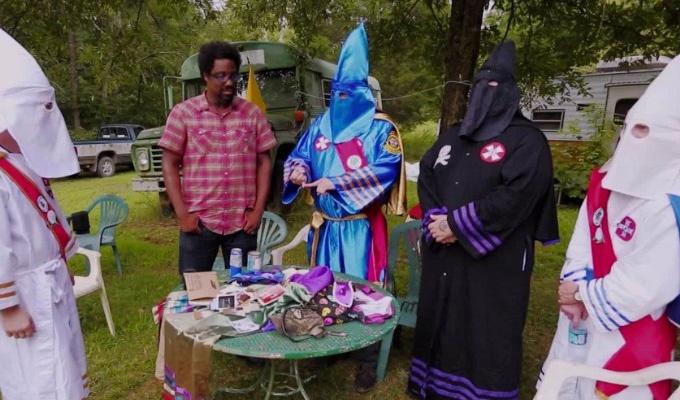 'Wait a minute white supremacy...'
Better late than never, here's this week's round-up…
• The sad news about Hi-Di-Hi's Barry Howard dying this week was relayed by his agent Sharry Clark. But it might not be the end of their relationship as she's not only an agent – but also a clairvoyant. And she sells 'energy clearance sprays' which you use to cleanse your aura. Just £100 a litre.
• Jimmy Carr appeared on the Late Late Show with James Corden this week – and spoke about his weird and distinctive laugh; and how it once attracted a devastating putdown from Nick Helm. Carr had gone to see one of Helm's shows, where he sat at the back 'trying to stifle my weird laugh so I don't pull focus'. Although the resulting muffled sound was 'like someone had smuggled in a barn owl'. But at one point, Carr suffered 'a proper full-on laughing fit' so distracting it brought the show to a halt. Helm pointed Carr out and said: 'I don't laugh when I come and see one of your shows'. Ouch.

• Katt Williams has been arrested for the fourth time in two months… this time for allegedly hurling a salt shaker at the face of a restaurant manager in Atlanta, Georgia, after he couldn't get a table.
• Stewart Lee is the voice of a black widow spider at London Zoo. 'It's in very small letters, if you go to the black widow spider you can hear its thoughts on headphones, that's me,' he told Brendon Burns on his podcast Dumb White Guy. 'That's the only voiceover job I've ever done and it was so mad I thought, "Yeah, I'd do that."'
• Craig Cash has gone off Crunchies. Why? 'I once had to eat a Crunchie on The Royle Family, which ended up being six or seven Crunchies because of all the retakes and different angles. By the end of it I didn't want to see a Crunchie ever again,' he recalls.
• American comedian W. Kamau Bell has been handing out tips to the Ku Klux Klan. The comic, who's black, hung out with the group in Arkansas for his new CNN series United Shades Of America… and broke the tension by telling one Imperial Wizard to add an slit to his mask so people can hear him speak better. And he said he'd think about it. Bell said he could never forget the horror of the KKK's past but that whenever he was able to get a Klan member to laugh, he thought: 'Wait a minute white supremacy, I think you just submitted to my black supremacy.'

• Ostrich-riding comedian Bernie Clifton had to recall thousands of CDs of romantic ballads – after tracks by grindcore band Abhorrent Decimation were printed on the track listing instead. The metalheads' songs include Eternal Repulsion and Odious, while Clifton – whose singing career was boosted by a recent appearance on The Voice – recorded When Your Old Wedding Wing Was New and Bonnie Mary Of Argyle.
Tweets of the week
Monopoly teaches some pretty intelligent financial lessons, considering it often involves a shoe being sent to jail.

— Glenn Moore (@TheNewsAtGlenn) April 25, 2016
Who called it semen and not date syrup.

— Colonel Idgafi (@minajartois) April 27, 2016
I'm "beach body" ready, but only if you include being discovered at low tide by a guy walking his dog

— Baz (@bazlyons) April 19, 2016
Published: 30 Apr 2016
What do you think?