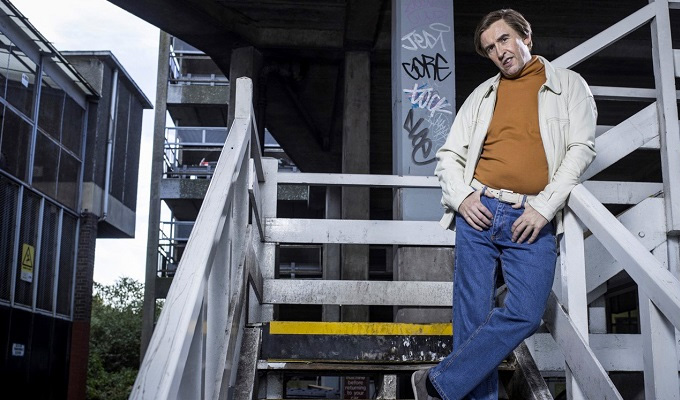 Alan Partridge goes up North
Alan's Partridge is to make a  one-hour 'state of the nation' mockumentary for Sky Atlantic.
Alan Partridge's Scissored Isle follows the second series of Mid Morning Matters, which aired on the channel to critical acclaim but very modest ratings.
The premise for the show, which will air on May 30, is that Alan attempts to make amends with the North of England after a 'controversial on-air incident'.
The blurb says he leaves behind his 'comfortable existence and vast detached house; to head north on a 'deeply personal journey of redemption' and to investigate whether a north-south 'schasm' has formed.
En route he will meet supermarket staff, payday lenders, disaffected street gangs and food scavenging 'freegans' in the hope of becoming 'a better citizen, a better man and a better, more sought-after broadcaster'.
Creator Steve Coogan said: 'It's great to see Alan tackle the big issues of poverty and disenfranchised youth with the same clumsy ham-fistedness we would usually expect from George Osborne.'
Indeed,Partridge's trip seems to echo Boris Johnson's contrite visit to Liverpool in 2004, after he wrote in The Spectator that the city's inhabitants like to 'wallow' in their 'victim status', following the murder of Ken Bigley in Iraq. 
Zai Bennett, director of Sky Atlantic, added: 'Alan is back on our screens and this latest incarnation of Partridge looks to be the best yet.'
The hour-long show is made by Coogan's company Baby Cow, produced by Ted Dowd, and   written by Rob Gibbons, Neil Gibbons and Steve Coogan.
Just 60,000 people tuned into the second series of Mid Morning Matters when it debuted last month, although the show – which is still available as a box set to Sky subscribers – is expected to do much better with on-demand viewing.
Published: 31 Mar 2016
What do you think?