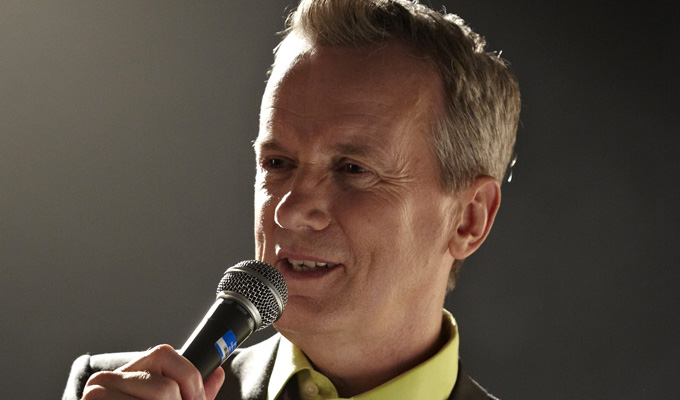 Frank Skinner to host new arts quiz
Frank Skinner is set to host a panel show about the arts for the BBC.
But Is It Art? was devised by the veteran comic and will see him quiz comics and well-known faces from the arts on all facets of literature, music, the visual arts and more.
The show was commissioned by Charlotte Moore, the BBC's controller of  TV channels and iPlayer. It is produced by Luke Shiach, whose credits include Play To The Whistle and A League Of Their Own, and is executive produced by Jon Thoday for Avalon.
Skinner, who hosts both Landscape Artist and Portrait Artist of The Year for Sky Arts with Joan Bakewell, has long been a champion of the so-called 'high arts'.
The opera buff has challenged his laddish public image, telling the Daily Telegraph in 2013 that: 'I like football and dirty jokes and I used to have sex with a lot of groupies but I also like art and literature and read poetry – and why are those things contradictory? Why can't they be part of the same thing? … I can't give up the knob jokes but also want to reflect my more sophisticated self. I think it can be hard to wear your brain on your sleeve.'
The Room 101 host hasn't always been such a cultural champion. Appearing on the show in 1995 as a guest, he successfully lobbied for Shakespeare to be banished because he was 'rubbish'.
'I've never ever seen a Shakespeare play that I wasn't really glad when it ended' he told host Nick Hancock. 'I've never laughed at [a Shakespeare] joke ever.'
Skinner – who also hosts a weekly iPlayer interview show about the best shows on the catch-up service – will run through a try-out version of But Is It Art? at the Tabard Theatre in Chiswick, West London, next Thursday. See our free tickets section to apply to be in the audience.
- by Jay Richardson
Published: 31 Mar 2016
What do you think?