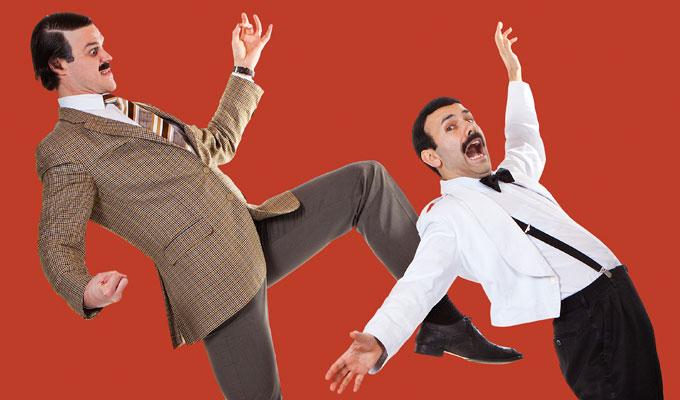 'Utterly shameless'
John Cleese is threatening to sue the theatre company behind the Faulty Towers Dining Experience for ripping off his characters.
He said he's never received a penny from Interactive Theatre International – saying they could owe him 'a significant amount' for using his creations for almost two decades.
The Australian company has been running their unofficial show at the Edinburgh Fringe for the last nine years, and currently has a residency at a London hotel, where tickets cost up to £59. Another version is to open at the Melbourne International Comedy Festival next week.
'I had absolutely no idea this was going on until about a year ago,' Cleese told Australia's Fairfax newspapers. 'If they've been going for 20 years without paying us a penny, they could well owe us a very significant amount. They didn't ask our permission.'
He said he was happy with community theatres running shows based on the characters he created with Connie Booth, but added: 'We didn't know it was happening on this scale… this is entirely different.'
'These people are completely brazen, utterly shameless. They take our concepts, they take our characters, they take our characters' names and then they change the W to a U and say it's got nothing to do with our show.'
Interactive Theatre International founder Alison Pollard-Mansergh claimed: 'If [Cleese's] comments were directed at us we reject them – they are misleading and inaccurate. We are huge fans of his work and wish him all the best with his new show.;
Cleese may be prompted to take legal action to protect his own production of Fawlty Towers Live, which will make its world premiere in Sydney in August.
Earlier in the week Cleese announced that Stephen Hall will be playing Basil in the Australian run. He previously appeared in Monty Python's Spamalot down under and is a regular on Shaun Micallef's satirical show Mad As Hell.
Blazey Best will take over Prunella Scales role as Sybil in the show which merges three episodes – Communication Problems, The Germans and Basil And The Rat into one plot.'
Cleese said he wanted to launch in Australia rather than London because the British press would not have given him a fair review.
Published: 23 Mar 2016
What do you think?