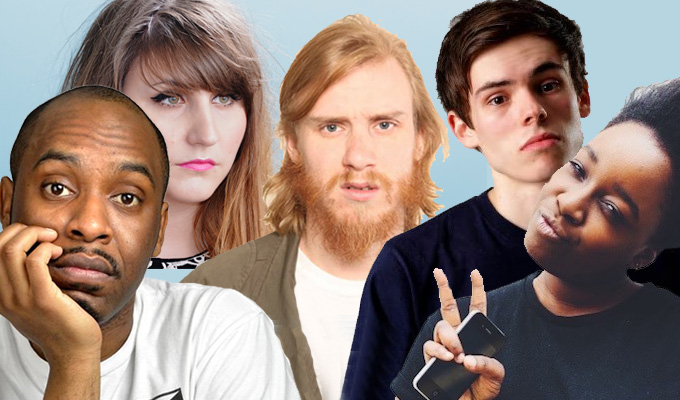 ITV2 to launch 'the new 11 O'Clock Show'
ITV2 is launching a new version of The 11 O'Clock Show, featuring Dane Baptiste, Lolly Adefope, Bobby Mair, Natasia Demetriou and Rhys James.
@elevenish promises a satirical blend of quick-fire monologues, sketches and topical commentary and is part of the channel's attempts to poach BBC Three's youth audience following its move online.
The show will be written and filmed in the days leading up to broadcast as it aims to complement 'the immediacy of the internet'.
Other acts appearing over the eleven, 30 minute episodes are Sam Simmons, Ivo Graham, Jamie Demetriou, Larry Dean, Sarah Callaghan, Birthday Girls, Tez Ilyas, Kiri Pritchard-McLean, Ellie White, Funmbi Omotayo, Massive Dad, Lazy Susan and Jamali Maddix.
The show will air at 10.55pm on Thursday, with the first debuting after the first live broadcast of Celebrity Juice on March 17. Both shows are made by Talkback, the company that made the original 11 O'Clock Show for Channel 4 from 1998 to 2000.
A pilot of the @elevenish format was shot for BBC Three in 2014 with the title The Vacuum but was not picked up.
Executive producer and Talkback's managing director, Leon Wilson, told Chortle: 'We want to find the new Sacha Baron Cohen, the new Ricky Gervais, the new Mackenzie Crook.
'Obviously those people weren't total unknowns [before The 11 O'Clock Show]. But whoever we've chosen, we think they're funny and talented and we want to give them an opportunity to move onto the next level.'
He adds that while The 11 O'Clock Show was thrice-weekly and 'the writers' budget alone was pretty phenomenal – our show is lower budget because that's the nature of television now – we share a lot of the same aspirations because it's topical, satirical and developing new talent'.
Rather than being presented by comedians in a studio, @elevenish will feature recurring 'writer's room' sketches to afford it a 'distinct, coherent identity … so it doesn't feel like a load of stuff you could just find on YouTube stuck together'.
There will also be a series of 'rules' imposed each episode 'to make the producer's voice within the show stand out a little bit, so it doesn't feel like an amorphous collection of different people's stuff.
@elevenish is produced by Juliet Morrish, who previously worked on Virtually Famous, and directed by Tommy Forbes, whose credits include The Revolution Will Be Televised and Almost Royal.
The executive producers are Wilson and Jamie Rea, the series was ordered by ITV's director of digital platforms, Angela Jain, and was commissioned by ITV's Claire Zolkwer.
Zolkwer said: '@elevenish gives a unique opportunity for new comedy talent to reach an ITV2 audience and we look forward to welcoming them.'
Family Guy, which originally screened on BBC Three in the UK, began airing on ITV2 this week.
Wilson discloses that 'ITV would love to do more comedy and take up some of the space that BBC Three previously occupied. The aim is to develop new faces for ITV2 and in time, ITV1.'
Here are some clips from the Vacuum pilot, which also featured Adam Hess:
The Best Of The Vacuum from Christopher Poole on Vimeo.
-by Jay Richardson
Published: 1 Mar 2016
What do you think?