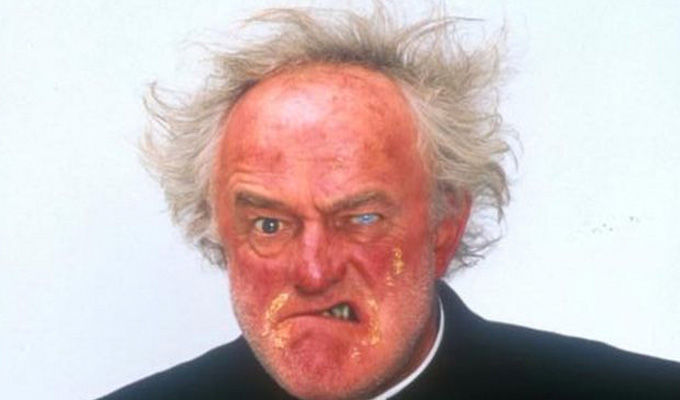 Ah feck, 'Father Jack' dies
Frank Kelly, who played Father Jack in Father Ted, has died aged 77.
His death comes 18 years to the day after the sitcom's star Dermot Morgan died at the age of 45.
Three months ago, Kelly revealed he had been diagnosed with Parkinson's disease. He had previously received the all-clear from bowel cancer in 2011, was treated for skin cancer last year and also had heart problems.
Father Ted co-creator Graham Linehan was one of the first to pay tribute, tweeting: 'Just hearing from various sources that Frank Kelly has passed away. Terribly sad news. Thanks for everything, Frank.'
The Divine Comedy, the band which wrote the theme tune, posted ion their official twitter account: 'Farewell, Frank Kelly. A very talented actor & our beloved Father Jack '
Comedian Joe Rooney added: 'I'm sad to hear about Frank Kelly; I interviewed him recently for the podcast and he was an absolute gent.He is a legend of Irish comedy RIP.'
Kelly, the son of cartoonist Charles E. Kelly, got his first film role was as an uncredited prison officer in The Italian Job in 1969, but he was already known to viewers of Ireland's RTE from the children's programme Wanderly Wagon, remaining with the show from 1968 to 1982.
He became known for comedy via the long-runningn Hall's Pictorial Weekly, from 1970 to 1982, where he played Parnell Mooney, a councillor from a rural backwater.
Kelly was also a popular radio comedian of the 1970s, 1980s and 1990s, including The Glen Abbey Show, where his character would include bumpkin Gobnait O'Lúnasa and an English BBC reporter.
However it was as Father Jack Hackett in the Channel 4 comedy that he really caught the public's imagination, creating the memorable figure of a decrepit, offensive and drunken priest with a vocabulary that stretches only to 'feck!', 'arse!', 'drink!' and 'girls!'.
Kelly said he always treasured his character's description in the script, as: ''Caution: It is very dangerous to approach Father Jack.'
His other credits include Emmerdale and Mrs Brown's Boys D'Movie.
After his Parkinson's diagnosis last year, he said: 'I've been working as an actor for over 50 years, and a shaky hand certainly won't stop me.'
He is survived by Bairbre, his wife of 51 years, and also leaves behind 7 children and 17 grandchildren.
Here is as Father Jack Hackett:
Here he is talking about the role:
And here he is, reading one of his monologues as Gobnait O'Lúnasa from the Christmasalbum Comedy Countdown
Published: 28 Feb 2016
What do you think?