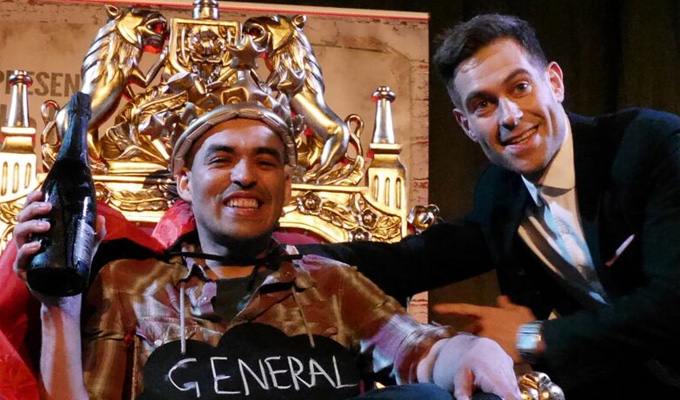 The man with the golden puns
Masai Graham has been crowned the 2016 UK Pun Champion.
The comic, from West Bromwich, took the title at Dave's Leicester Comedy Festival last night, where he performed under the nickname 'General Punochet'.
The festival invited  eight comedians to battle it out over three rounds for the title in an event hosted by Lee Nelson. 
Fife-based comedian Richard Pulsford  was runner-up and the other contestants were Colin Chadwick, Nigel Lovell, Richard Woolford, Roger Swift, Tony Cowards and defending champion Leo Kearse.
Examples of Graham's puns were:
• My English teacher recently recovered from a bowel cancer operation… and he tried to show me a semi colon. 
 
•  My Jamaican Nan wants to know why I love Chocolate spread so much, but mi Nutella.
 
• What's the difference between a hippo and a Zippo? One's really heavy and the other is a little lighter.
The latter previously got Graham on to the list of the best jokes at the Edinburgh Fringe, also sponsored by Dave.
 
Geoff Rowe, director of Dave's Leicester Comedy Festival, which runs until February 21, said: 'The UK Pun Championship has quickly developed into one of the key comedy competitions in the UK. The standard of the acts this year was especially high.'
Read our review of the night here, and watch the highlights below:
Published: 9 Feb 2016
What do you think?