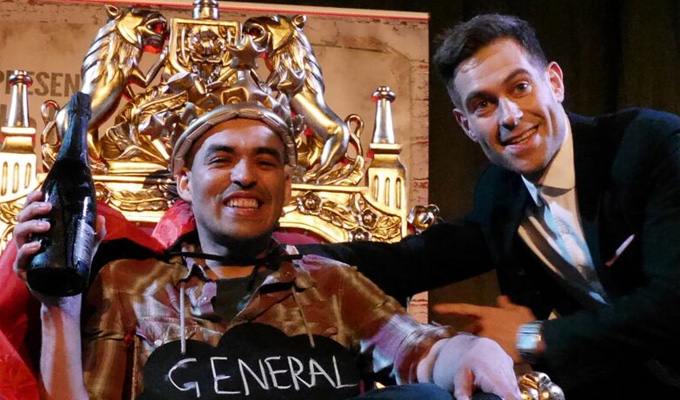 The UK Pun Championships 2016
Note: This review is from 2016
Punday, bloody #punday. The hashtag started by Dave's Leicester Comedy Festival was trending all day on Twitter – because if there's one thing Twitter loves it's… well, it's violent, misogynist trolling. But if there are two things it likes, wordplay is in there too.
And so for the evening, pundreds of punderful punters gathered, punctually, at the UK Pun Champi-pun-ship, hosted by Lee Nels-pun. An event so prestigious that, erm, at least a couple of the intended finalists dropped out before the night.
Still, Nelson tries to hype up the event as a sort of 8 Mile for pun-slingers – and at its best, it's at least similar – while accepting that its exponents will be 'nerdy, very awkward' people, with none of the cachet of a rapper.
So which of the eight men or women would take this year's crown? Who are we kidding – they are all men, for wordplay is the last bastion of comedy to remain virtually a male-only preserve, perhaps because it's based on formulae and trickery, rather than emotions and honesty, to use some huge gender generalisations.
There's quite a bit of admin till we get to the jokes: topics are drawn out by audience members of a giant bin containing lots of round objects (for the rounds, geddit?) and, later, some actual trash as it's been mistaken for a real bin. Also, ticket-holders have submitted their largely awful and often second-hand offerings on scraps of paper; to play with a sound board full of wacca-wacca effects and tumbleweed sounds, and explain the unlucrative prize and 'barrels of fun' the comedians stand beside.
This gets in the way of the punning; a hurdle to be overcome before Nelson can focus the audience into the panto mood required to cheer, boo and groan at each double meaning. We get there in the end, but it's a bit sluggish at the start,
In a series of head-to-heads, we lose Ireland's Colin Chardiwck, London's Nigel Lovell, and - controversially - defending champion Leo Kearse in the first round. Although, more contentiously, Nelson can't decide between Richard Pulsford and Masai Graham and puts them both through, creating a logistically difficult five semi-finalists.
Graham seems to be the one to beat from the start, with less contrivance to engineer a weak pun, though he's not above dropping a real clanger. Although the best example of how the night can go was in the pre-bout banter between Cowards, who seems congenitally compelled to pun, and Lovell. They trade ad-libbed quips in a to-and-fro of oneupmanship, escalating the stakes. In other rounds, the audience get involved too, 'punion' is a great food-based portmanteau; and a digression about cows proves very fruitful, until the cry of 'don't milk it!' goes up. The more formalised structure – each comic taking their turn to crack three gags on a subject – is more stilted and more hit-and-miss, the audience less forgiving of a scripted line than escalating ad-libbed banter.
In the semis, out go Cowards, Roger Swift and Richard Woolford, who previously won another Dave-backed joke campaign, for his Christmas cracker one-liner: 'What does Miley Cyrus have at Christmas? Twerky.'
Thus the final showdown is a rematch between Pulsford and Graham, who emerges as the clear winner. And its not often you hear 'winner' and 'man who cracks puns' in the same sentence.
Did the right guy win? Here are some of the best lines from the night:
Review date: 9 Feb 2016
Reviewed by: Steve Bennett