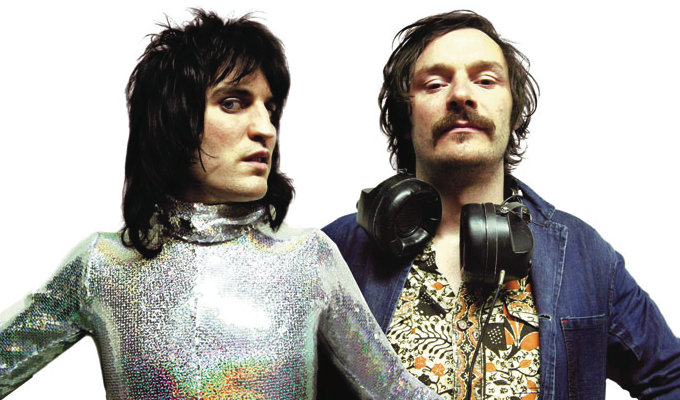 How the Boosh turned down an American TV deal
The Mighty Boosh turned down a chance to make an American TV series, Noel Fielding has revealed.
But he also confirmed that he and Julian Barratt are reuniting this year – although details of their project remain sketchy.
The pair were offered a show in America by the IFC channel around the time of their first mini-tour of the States in 2009.
Speaking on comedian Chris Hardwick's Nerdist podcast, Fielding said that the Boosh passed on the series because 'it was kind of bad timing for us so we didn't do it unfortunately, which slightly I still regret.'
The offer came after their original TV series had been shown on BBC America and Adult Swim, and US interest in the duo was at its peak.
'We sort of came here at the height of the Booshdom, when it was doing well,' Fielding recalled. 'Robin Williams came to see us at the Roxy. Jack Black hung out with us and Mike Myers, we sort of met all the cool people and they were all going "oh, you should do something, you should do something!"
'And unfortunately we'd just done a 100-date tour, Julian was about to have kids, it was kind of the wrong timing really, we needed a bit of a break. So we didn't do it. But in some ways, I wish we had of done'.
IFC would go on to commission the Boosh's longtime collaborator Rich Fulcher to co-write a script about two accidental cult leaders, Cult Following.
Speaking on the podcast to plug his forthcoming solo tour of America, Fielding also suggested that he and Barratt are reuniting. The Boosh last appeared together in 2013 at a Los Angeles festival, following a four-year hiatus. Both were in Steve Oram's film directing debut Aaaaaaaah! last year but never appeared on screen together.
Fielding told Hardwick: 'Me and Julian have just started – we sort of had a big break - we never weren't friends, we carried on being friends … because we live in the same street, so we see each other all the time … and we've just recently started thinking we should write something again.
'So hopefully this year we're going to have a crack at something. No idea what … we're just going to see what happens. We might write a modern dance piece.'
He added: 'You get famous and then you're always trying to get back to that point where you were just in your bedroom doing it for fun, no-one knew who you were. You play the O2 and you have a TV show, really, creatively, you always want to get back to that point where it was two of you in a room …'
In a 2013 episode of Never Mind The Buzzcocks, Fielding disclosed that the Boosh have recorded an unreleased music album. And rumours persist that they intend to make a film, with their failure to do so another regret Fielding admitted to Hardwick.
During the wide-ranging podcast chat he also revealed that his brother, Mike Fielding, aka Naboo the Shaman in the Boosh, is an events manager for his day job; that Richard Ayoade mimics famous film directors on the few occasions when he's drunk; and how he missed out on playing David Bowie in Flight Of The Conchords television series.
Jemaine Clement and Bret McKenzie asked him to play the rock icon in the episode based around their homage Bowie In Space.
Fielding recalled thinking: 'This is the dream job - I've been asked to be on Flight Of The Conchords and play David Bowie in a dream! I was jumping up and down! And then I finished jumping up and down and my agent went, "Unfortunately, on that day, you're in the IT Crowd and we've already signed the contract". It just crumbled and dissolved'.
The Conchords subsequently cast another British comic, Dan Antopolski, as Bowie, and then when that didn't work out, played the Starman themselves.
Fielding concluded that 'in hindsight, [that] was the best move because they both did it brilliantly'.
- by Jay Richardson
Published: 3 Feb 2016
What do you think?