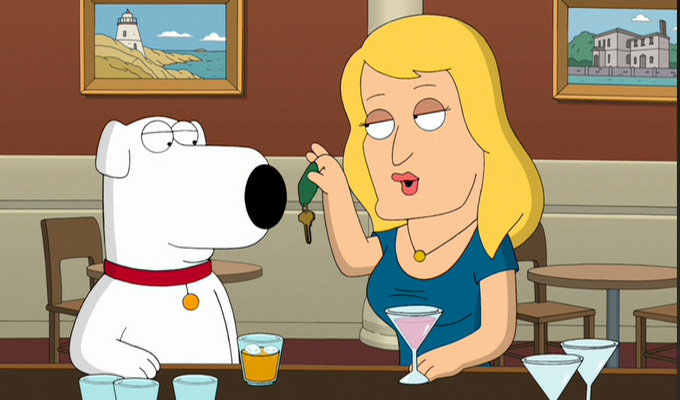 Family Guy's transsexual episode cleared
Ofcom has ruled that an episode of Family Guy about a transgender woman did not breach its guidelines on causing offense.
The episode, Quagmire's Dad, has been criticised for its storyline in which Quagmire's father Dan undergoes surgery to become Ida after stating he is 'a woman trapped in a man's body'.  Brian later has sex with Ida… and violently vomits for 30 unbroken seconds after learning about her past.
The script also features Ida at a restaurant saying: ''They even named a sandwich after me. It's an inside-out hot dog slathered with ketchup.'
Another scene shows food prepared by Ida being thrown in the trash by Lois Griffin, while some viewers have accused the episode of drawing a connection between transgender people and sex offenders.
In the States, leading LGBT campaign group GLAAD noted that the 'predominant opinion [is] that the episode was incredibly offensive to transgender people.'
Ofcom received just one complaint when BBC Three aired the episode at 11.45pm in November, and launched an investigation. But today regulators decided that the broadcast did not breach its rules.
Although no reasoning for the decision is officially given, the watchdog generally takes into account the scheduling time and general audience expectations of a show, with Family Guy largely acknowledged for its near-the-knuckle humour.
Ida herself is  shown in a positive light, but the reactions from other characters are extreme.
Before the show aired, series creator Seth MacFarlane predicted: 'I can safely say that the transsexual community will be very, very happy with the Quagmire episode that we have coming up in a couple of months. It's probably the most sympathetic portrayal of a transsexual character that has ever been on television, dare I say.'
He later said he was surprised by the backlash saying he felt Ida was a 'very sympathetic portrayal of a transsexual character'.
Ofcom made its decision public on the same day it rapped The One Show after Jimmy Carr made jokes about dwarfs during a live broadcast.
Here are a couple of contentious scenes from Quagmire's Dad: 
Published: 25 Jan 2016
What do you think?