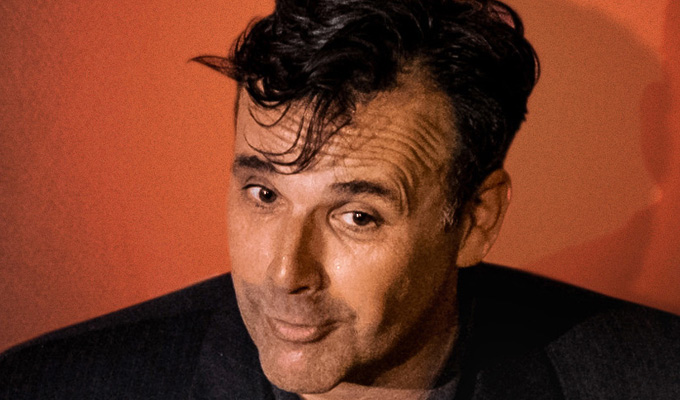 'Remember Bowie's Nazi leanings'
Comedian Rob Newman has reacted to the wave of posthumous admiration for David Bowie, by criticising the cultural icon's flirtation with Nazism.
The stand-up admitted he was striking 'a dissonant note' when he reminded his uncomfortable audience of the pop star's fascist rants of the 1970s.
Bowie's 1976 character The Thin White Duke was envisaged as an 'emotionless Aryan superman' and he once called Hitler 'one of the first rock stars' – a statement he later retracted, claiming he was 'completely crazed' on drugs.
Newman took a diversion from his Brain Show at London's Soho Theatre tonight to draw attention to Bowie's past.
He also made allusions to Bowie's infamous Victoria station incident of May 1976, when he entered the London station in an open-topped car making what many interpreted as a Nazi salute. Around the same time, Bowie told an interviewer: 'I think Britain could benefit from a fascist leader' and was detained by customs officers on the Polish/Russian border for possession of Nazi paraphernalia.
'Let me make it plain, you gotta make way for the Homo Superior,' Newman said, quoting Bowie's 1971 track Oh You Pretty Things.
Sensing he was out-of-step with the audience – if not most of the country – Newman said: 'Forgive but don't forget' as he resumed his show.
Newman also mocked those who said Bowie couldn't be a Nazi because he had a black wife by joking: 'So does Robert Mugabe.'
Chortle understands this material has been in the show for around three months, and was not a reaction to the day's news wich gave it extra edge.
Newman's concerns were clearly not shared by his former double-act partner David Baddiel, who had earlier tweeted: 'Not just upset by Bowie's death but disorientated: like I've woken up and the world is out of joint. I think I assumed he was immortal' and adding: 'Death is such a bully, stealing away the things you love'.
Earlier, Jimmy Carr caused gasps of shock during his show in New Zealand by breaking the news of Bowie's death at the age of 69 to his audience.
The comic announced the news just after the interval in Auckland, perhaps assuming that his audience had already found out via their mobile phones. After the initial shock, he told the crowd: 'We are all a little cooler now as the coolest man on Earth just died.'
Fan Chris Philpott, told the New Zealand Herald: 'It was a nice touch at the end of the show, and, honestly, given how quickly news like this travels, and how all of us were on our phones at intermission, it would've been weird for him not to say something.'
Bowie's song Heroes was played as Carr's audience left the ASB Theatre.
Published: 11 Jan 2016
What do you think?