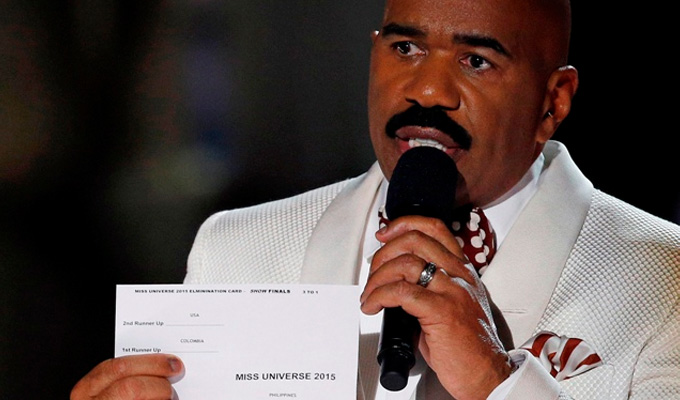 And the winner is... Miss Take
Comedian Steve Harvey made the biggest mistake of his career last night – when he named the WRONG beauty queen as winner of Miss Universe.
On stage in Las Vegas – and in front of a global TV audience of up to a billion people – the host wrongly announced Miss Colombia Ariadna Gutierrez as winner.
For more than two long minute she believed she had won as she basked in the audience applause, collected her sash and a massive bouquet, while a fanfare played,
Then Harvey, who came to fame through The Original Kings of Comedy, came back on stage to utter the devastating words: 'OK folks… there's … I have to apologise.'
Miss Colombia was the first runner-up, he said, as the camera cut to a confused-looking Miss Philippines, Pia Alonzo Wurtzbach, who had actually won.
Harvey said: 'Let me just take control of this. This is exactly what's on the card. I will take responsibility for this. It was my mistake. It was on the card.'
He held up the card, which showed the positions correctly assigned, although there may have been confusion by labelling the second-placed contestant as '1st runner-up'.
You had one job, one job and it was to read this correctly ! #MissUniverse2015 pic.twitter.com/hc8zuHzlPu

— feLIZ navidad (@elizabethxxoo) December 21, 2015
Harvey later took to Twitter to apologise to both contestants and the viewers at home, but managed to misspell both nations' names before correcting himself.
He added: 'i don't want to take away from this amazing night and pageant. As well as the wonderful contestants. They were all amazing," Harvey wrote.
Organisers IMG Universe said: 'Unfortunately, a live telecast means that human error can come into play. We witnessed that tonight when the wrong winner was initially announced. Our sincerest apologies to Miss Universe Colombia 2015, Ariadna Gutierrez-Arévalo, Miss Universe Philippines 2015, Pia Alonzo Wurtzbach, their families and fans.'
The company claimed a worldwide TV audience of one billion for the last final, in January this year.
Here is his huge gaffe:
Published: 21 Dec 2015
Recent News
What do you think?